Emeril's Mexican Tortilla Soup
Emeril Lagasse's Easy Recipes For Kids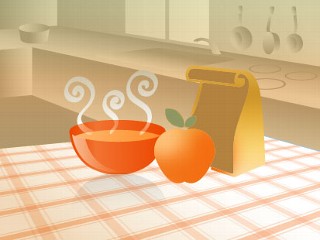 From the kitchen of Emeril Lagassi
|
Emeril Lagasse has written a new cookbook for kids called "There's a Chef in My World."
The recipes are fun to prepare and are sure to please even finicky eaters.
Ingredients
1 pound boneless skinless chicken breasts, cut into bite-size pieces
1/2 teaspoon salt
1/2 teaspoon ground black pepper
1 tablespoon olive oil
1 cup yellow onion, diced
1/2 cup green bell pepper, diced
1 tablespoon garlic, minced
1/2 small jalapeño (about 2 teaspoons), stemmed, seeded, and finely chopped
4 1/2 cups reduced-sodium chicken broth
1 teaspoon ground cumin
1/2 teaspoon ground coriander
3 tablespoons fresh lime juice
1 tablespoon fresh cilantro, plus extra for garnish, chopped
1 cup tomatoes (2 to 3 small Roma tomatoes), chopped
tortilla chips, crushed
1 ripe avocado, peeled, pit removed, and diced (optional)
Sour cream (optional)
Cheddar cheese, grated (optional)
Cooking Directions
Season the chicken with salt and pepper and set aside.
Heat the olive oil in a medium stockpot or Dutch oven over medium-high heat. Add the onion and bell pepper and cook, stirring, 2 to 3 minutes, or until the vegetables are softened.
Add the garlic and jalapeño and sauté for 1 minute, stirring constantly.
Add the chicken and cook, stirring occasionally, for about 2 minutes. The chicken will brown slightly.
Stir in the chicken broth, cumin, coriander, and lime juice.
Bring the soup to a boil, and reduce the heat to medium-low. Allow the soup to simmer for 5 minutes.
Stir in the cilantro and tomatoes and simmer an additional 5 minutes.
Place about 1/2 cup crushed tortilla chips in each serving bowl. Ladle the hot soup over the tortillas and garnish with a little extra cilantro, diced avocado, sour cream, and grated cheese, as you prefer.
Recipe courtesy Emeril Lagasse, "Emeril's There's a Chef in My World," HarperCollins Publishers, 2006
Other Recipes That You Might Like