Moo Shu Turkey
Turkey Leftovers With an Asian Twist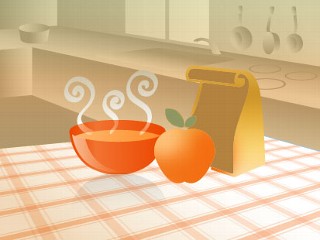 From the kitchen of Michael Schulson
|
After Thursday's turkey coma fades, what do you do with the refrigerator full of leftovers?
Executive chef Michael Schulson from the restaurant Buddakan in New York City demonstrated several turkey-leftover recipes with an Asian twist.
Ingredients
10 ounces turkey, cooked 1/4 cup hoisin sauce
1 large cucumber, sliced
1/2 cup scallions, sliced, whites only
12 moo shu pancakes
Cooking Directions
Heat the pancakes in the microwave for 30 seconds. Put a teaspoon of the hoisin on the pancake and lay the turkey on top of the hoisin. Garnish with some cucumber slices and scallions. Serve with additional hoisin if desired.
*Recipe courtesy of Michael Schulson, executive chef Buddakan, New York City
Other Recipes That You Might Like