Sandra Lee's Burrito Casserole
Give Your Casserole a Kick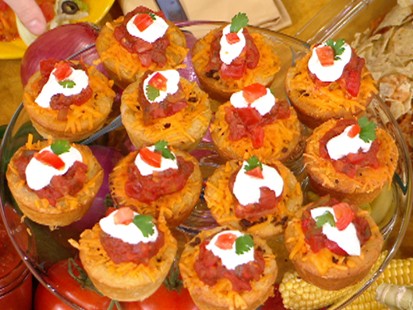 "Semi-Homemade" host makes burrito casserole and taco cups.
From the kitchen of Sandra Lee
|
Food Network star Sandra Lee shows off her semi-homemade prowess on comfort food with a Mexican twist.
Ingredients
1 package beef and bean burritos (El Monterey - 32-ounces)
1 can mild enchilada sauce (14 ounces)
1 1/2 cups shredded Cheddar cheese (Sargento®)
1 can sliced black olives (2.25 ounces), drained
1 1/2 cups tomato, diced
4 cups shredded iceberg lettuce (about 1/2 a head)
Cooking Directions
Line burritos in a single layer in a 13-by-9-inch microwave-safe dish. Microwave burritos on High, for 6 to 8 minutes, or until heated through.
Pour enchilada sauce over the burritos. Sprinkle cheese over enchilada sauce. Microwave burritos for 1 to 2 minutes, or until cheese is melted. Spread olives, tomato and lettuce evenly over burritos.
Serve immediately.
Other Recipes That You Might Like