Crock Pot Meatloaf
Slow Cooker Finalist Recipe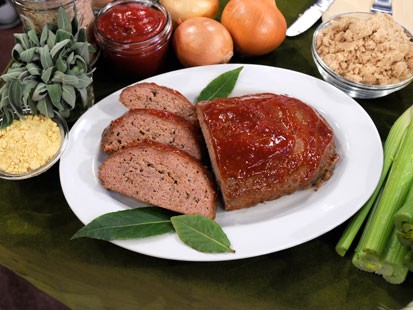 From the kitchen of Gail Farber
|
"GMA" put out the call and hundreds of viewers e-mailed us their super slow-cooker recipes.
After thousands of votes, Gail Farber's Crock-Pot Meatloaf was one of the five finalists in Emeril's Slow-Cooker Challenge.
Ingredients
Meatloaf
2 beaten eggs
3/4 c. milk
2/3 c. seasoned bread crumbs
1 tsp salt
2 Tbsp onions, grated
1/2 tsp. ground sage
1 1/2 lb. ground meat (I use 1/3 lb. ground pork, 2/3 lb. ground beef. Sometimes I use 1/3 lb. ground veal and just 1/3 lb. ground beef.)
Sauce
1/4 c. Ketchup
2 Tbsp brown sugar
1 tsp. dry mustard
1/4 tsp. ground nutmeg
Cooking Directions
Put loaf in Crock-Pot on low 5-6 hours (Longer is OK.)
Pour sauce over meat in the last 15 minutes on high.
Sometimes I double the recipe to ensure leftover meatloaf sandwiches.
I have been making this for at least 25 years, maybe longer and have had many a meatloaf party for family and friends.
It's a great comfort food anytime, and my gentleman friend said he fell in love with my meatloaf first.
Other Recipes That You Might Like