Emeril's Spaghetti Pie
Fast and Delicious Family Dinners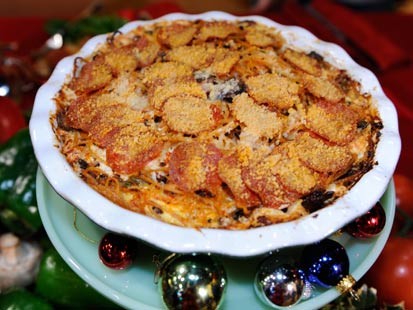 From the kitchen of Emeril Lagasse
|
With everyone's increasingly busy schedule, whipping up a fast, yet delicious, meal is atop many people's list — especially during a weeknight when time is most precious. That's where Emeril comes in. Check out his easy-to-follow recipes for those busy work days.
Ingredients
Spaghetti Pie
1 teaspoon salt
1/2 pound dried spaghetti
2 teaspoons olive oil, plus 1 tablespoon
1 cup Basic Red Sauce, or store-bought pasta sauce
1/2 cup green bell pepper, chopped
2 teaspoons garlic, minced
1 teaspoon Emeril's Essence Spice
1 teaspoon Italian Seasoning
1/4 teaspoon crushed red pepper flakes
1 1/2 cups mozzarella (4 ounces), cubed
1/2 cup black olives (optional), chopped
4 ounces button mushrooms, wiped clean and thinly sliced, optional
4 large eggs
1/2 cup whole milk
3/4 cup pepperoni, sliced
1/2 cup Parmesan (grated)
Cooking Directions
Bring a large pot of water to a boil over high heat. Add salt and spaghetti and stir to combine. Return to a boil, reduce heat to a low boil and cook until al dente, about 10 minutes. Drain spaghetti in colander. Return to the pot and toss with 2 teaspoons olive oil and set aside.
Preheat the oven to 375 degrees F. Lightly grease a 2-quart casserole dish with the remaining olive oil and set aside.
In a large mixing bowl combine the spaghetti, pasta sauce, bell pepper, garlic, Essence, Italian seasoning, crushed red pepper, and mozzarella and toss to mix well. If desired, also add chopped black olives and mushrooms, and mix to combine.
In a separate bowl, whisk the eggs and milk. Transfer the spaghetti mixture to the prepared dish and pour the egg mixture over the top. Arrange the sliced pepperoni in an even layer over the top, and sprinkle with Parmesan.
Bake until bubbly and golden brown on top, 20 to 25 minutes. Remove from the oven and let sit for 5 minutes before serving.
Other Recipes That You Might Like