Seared Petite Lamb Chops With Rosemary Balsamic Reduction Sauce
A Springtime Dish For Easter Dinner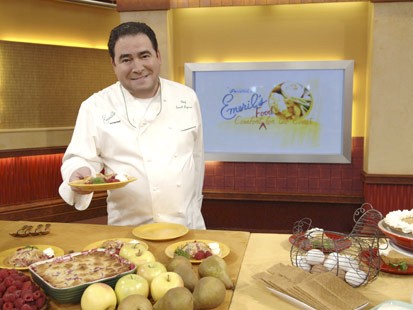 From the kitchen of Emeril Lagasse
|
Top Chef Emeril Lagasse cooks up some recipes that are a flavorful addition to any springtime menu, and perfect for an Easter dinner.
Here is his recipe for Seared Petite Lamb Chops With Rosemary Balsamic Reduction Sauce. Serve with Pan Roasted Fingerling Potatoes and his Oven Roasted Asparagus.
Ingredients
3 tablespoons extra-virgin olive oil
2 tablespoons parsley leaves, finely chopped
1 tablespoon rosemary leaves, finely chopped
2 teaspoons garlic, minced
Kosher salt
8 double lamb rib chops (4 ounces, 2 ribs, with bones attached), ribs frenched
Freshly ground black pepper
1 tablespoon plus 1 teaspoon olive oil
2 tablespoons shallots, minced
6 tablespoons balsamic vinegar
1 cup chicken stock (or low-sodium canned chicken broth)
1 large rosemary sprig (or 2 small sprigs)
2 tablespoons butter
Cooking Directions
Preheat the oven to 400 degrees F.
In a small bowl, combine olive oil, parsley, rosemary and 1 teaspoon of the minced garlic. Season with salt to taste and set aside.
Set a 12-inch oven-safe sauté pan over medium-high heat. Season the lamb chops liberally on all sides with the kosher salt and black pepper. Add 2 teaspoons of the oil to the sauté pan and place the lamb, fat side down, in the pan. Sear the lamb until the fat has rendered and the skin is golden brown, about 3 minutes. Continue to cook the lamb, turning to cook evenly on each side, about 2 minutes on each side. Baste them with the herb and oil mixture.
Transfer the pan to the oven and cook until the lamb has reached the desired degree of doneness, about 5 minutes for rare. (Alternatively, you can grill the lamb chops.)
Make the balsamic reduction sauce while the lamb is roasting in the oven: Set a 10 inch sauté pan over medium-high heat and add the remaining 2 teaspoons of olive oil. Once the oil is hot, add the shallots to the pan and sweat until translucent, about 1 minute. Add the remaining teaspoon of garlic to the pan and "sweat" for 30 seconds. Add the balsamic vinegar and rosemary sprigs to the pan and cook until thickened, about 1 minute. Add the chicken stock to the pan and continue to cook until sauce has reduced by half, 3 to 4 minutes longer. Season with salt and pepper to taste.
Remove from the heat, remove the rosemary sprigs and swirl the butter into the pan. Keep sauce warm until ready to serve, but take care not to allow sauce to boil or it will separate.
When the lamb has reached the desired degree of doneness, remove from the oven and let rest for 5 minutes before serving. To serve, slice each double chop in half, and drizzle with the balsamic reduction sauce.
Serve with the Pan Roasted Herbed Fingerling Potatoes and the Oven Roasted Asparagus.
Other Recipes That You Might Like