Emeril's Fresh Berry Sauce
A Sweet Topping for Cheesecake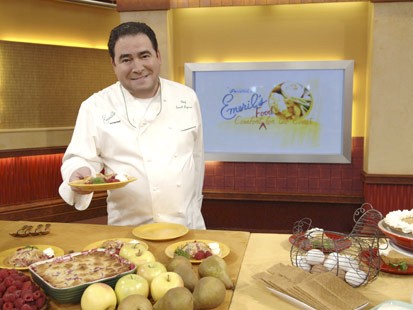 From the kitchen of Emeril Lagasse
|
Top Chef Emeril Lagasse cooks up some recipes that are a flavorful addition to any springtime menu, and perfect for an Easter dinner.
Here is his recipe for Fresh Berry Sauce, perfect for Emeril's Lemon Ricotta Cheesecake.
Ingredients
1 quart fresh strawberries, hulled and sliced (1 1/2 pounds)
2 cups fresh blueberries (3/4 pound)
1 cups fresh raspberries (6 ounces)
1 cups fresh blackberries (6 ounces)
1 1/2 teaspoons fresh mint, finely chopped
1 cup Champagne (or sparkling wine)
1/2 cup sugar
Pinch salt
1/2 vanilla bean, scraped
1 tablespoon fresh lemon juice
1 1/2 teaspoons fresh lemon zest
Cooking Directions
Combine the berries and mint in a large bowl.
Combine the Champagne, sugar, salt and vanilla bean in a small saucepan over medium-high heat. Simmer until the sugar dissolves and the mixture is syrupy, 6 to 7 minutes. Remove from the heat and allow to cool until just warm.
Remove the vanilla bean. Add the lemon juice and zest and stir to combine.
Pour the syrup over the berries and toss to combine.
Cover and refrigerate for at least 1 hour before serving.
Serve sauce spooned over Emeril's Lemon Ricotta Cheesecake.
Makes about 2 quarts.
Other Recipes That You Might Like