Caramel Apple Bread Pudding
Feed Eight for Under $10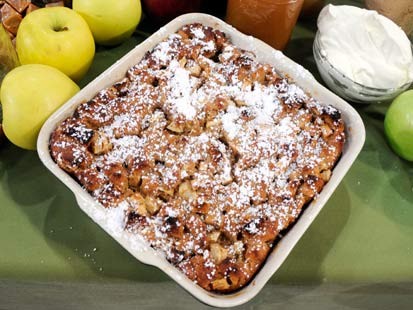 From the kitchen of Taste of Home
|
Got a big dinner group but want to save some cash? No problem.
You may be surprised to find you can feed up to eight people and spend just $10. Catherine Cassidy from "Taste of Home" magazine demonstrated three recipes on "Good Morning America."
Ingredients
1 cup unsweetened applesauce
1 cup fat-free milk
1/2 cup brown sugar, packed
1/2 cup egg substitute
1 teaspoon vanilla extract
1/2 teaspoon ground cinnamon
5 cups day-old bread, cubed
1/2 cup peeled apple, chopped
1/2 cup fat-free whipped topping
1/2 cup fat-free caramel ice cream topping
Cooking Directions
In a large bowl, combine the applesauce, milk, brown sugar, egg substitute, vanilla and cinnamon. Fold in bread cubes and apple.
Pour into an 8-in. square baking dish coated with cooking spray. Bake, uncovered, at 325° for 35-40 minutes or until a knife inserted near the center comes out clean. Serve warm with whipped topping and caramel topping. Refrigerate leftovers.
Recipe courtesy of Taste of Home.
Other Recipes That You Might Like