Sandra Lee's Ham and Cheese Casserole
Give Your Casserole a Kick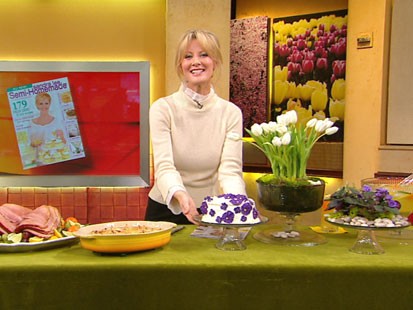 Sandra Lee offers easy, effective, inexpensive ways to decorate for the season.
From the kitchen of Sandra Lee
|
Food Network star Sandra Lee shows off her semi-homemade prowess on comfort food with a delicious springtime favorite.
Ingredients
1 bag Ore-Ida Southern-style hash brown potatoes (32 ounces)
2 cups ham, chopped
1 cup onion, chopped (I use frozen chopped onions from the store)
2 packages Sargento shredded Swiss cheese (5 ounces), divided
1 jar sliced mushrooms (4.5 ounces), drained
1 teaspoon salt
1/2 teaspoon ground black pepper
1 can Cream of Mushroom soup (10 3/4 ounces)
1 cup whole milk
2 tablespoons butter, melted
Cooking Directions
Preheat oven to 350°. Spray a 3-quart baking dish with nonstick cooking spray.
In a large bowl, combine potatoes, ham, onion, 1 package cheese, mushrooms, salt, and pepper.
In a medium bowl, whisk together soup, milk, and butter. Pour soup mixture over potato mixture, stirring to combine. Pour into prepared dish and top with remaining package of cheese. Bake for 35 minutes. Increase oven temperature to broil and cook for 5 minutes longer, or until cheese is lightly browned. Serve immediately.
Courtesy of Sandra Lee Semi-Homemade magazine; reprinted with permission from Hoffman Media, LLC. For more information visit www.semihomemademag.com.
Other Recipes That You Might Like