Paula Deen's Grilled Orange-Glazed Pork Tenderloin
Brought to You By Paula Deen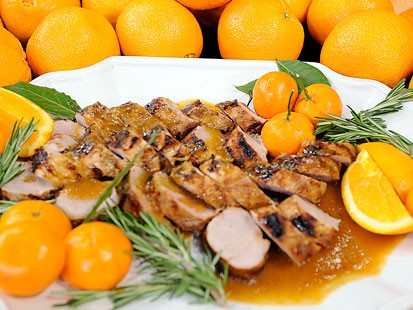 From the kitchen of Paula Deen
|
Savannah restaurateur and Food Network star Paula Deen joined "Good Morning America" to whip up a few of her favorite home cooking recipes from her book, "Deen Family Cookbook."
Here's her take on a scrumptious Pork Tenderloin with a little citrus twist.
Recipe courtesy of Paula Deen's The Deen Family Cookbook; Simon & Schuster 2009.
Ingredients
1 cup orange juice
1/4 cup olive oil
2 cloves garlic, chopped
1 teaspoon salt
2 pork tenderloins (1 1/4 pounds each)
1/3 cup honey
Vegetable oil, for brushing the grill
Cooking Directions
In a blender, combine the orange juice, olive oil, garlic, and salt, and blend until smooth. Place the tenderloins in a 2.5-gallon resealable plastic bag or a large bowl. Pour the marinade over them, seal or cover with plastic wrap, and marinate in the refrigerator for 8 hours or overnight.
Fire up the grill. Remove the tenderloins from the marinade and pat drive. Pour the marinade into a small saucepan, add the honey, and let the mixture boil until it is reduced to a syrupy consistency, about 20 minutes.
Meanwhile, brush the grill with oil and grill the pork over medium heat for 20 minutes, turning occasionally. Brush some of the orange glaze over the pork and continue to cook, brushing with more glaze, until an internal temperature of 150°F is reached (check with an instant-read thermometer), about 20 minutes more. Let the pork rest for a few minutes before slicing.
Other Recipes That You Might Like