Coconut Creme Pie
Best Slice Finalist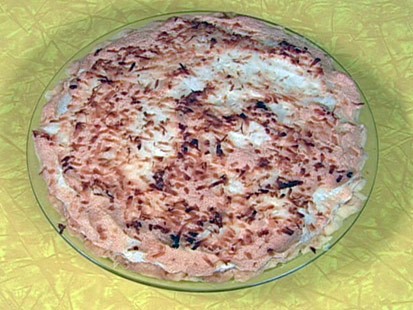 From the kitchen of Sommerset Hall Café
|
It may look like a quiet town, but residents of Dover, Kan., tend to wait in lines out the door to eat at the Sommerset Hall Cafe. Everyone's favorite second helping? A slice of one of Norma Grubb's special pies. At 88, the diminutive cook works five mornings a week at a special counter in the cafe's kitchen. Here's the recipe for Norma's best-seller, her Coconut Cream Pie -- a coconut-filled flaky crust, topped with sweet meringue and coconut flakes.
Ingredients
3 cups milk
3 egg yolks, save whites for meringue
Sprinkle of salt
3/4 cup sugar
4 Tbs. cornstarch
1 tsp vanilla
Approximately 1/4 cup coconut flakes (I don't measure the coconut, Norma says)
Prepared pie crust
Cooking Directions
Save out a little milk. Put the rest of the milk in a double boiler and heat. In a separate bowl, beat egg yolks. Mix in the milk you saved and salt. Add sugar and stir. Add cornstarch and beat. Stir mixture into hot milk.
Cook on stovetop. Add vanilla and coconut. Put coconut cream filling in baked and cooled pie shell.
To Make Meringue: Beat egg whites until stiff. Add 2 tablespoons sugar. Put on top of pie and sprinkle coconut on top. Put pie in 375 degree oven to brown meringue.
Other Recipes That You Might Like