Mario Batali's Senorita Robin's Greens
Get the Recipe: With $15 Worth of Groceries Chef Mario Batali Creates Brand-New Recipe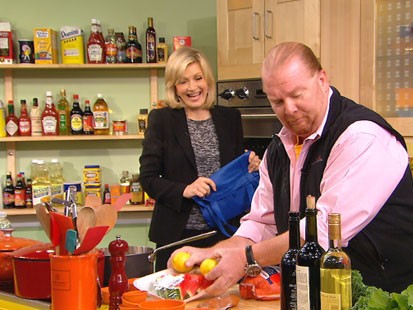 Diane Sawyer puts the chef to the ultimate cooking test.
From the kitchen of Mario Batali
|
As part of "GMA's" $15 Dinner Dare series, each day an anchor will unveil a list of secret ingredients. Then a chef will have to prepare a tempting meal live on-air with the newly unveiled ingredients in just minutes.
Mario Batali is the first chef to take on the challenge. Diane Sawyer gave him his list of surprise ingredients live on-air Monday.
Ingredients
1 bunch collard greens, washed with stems removed and cut into 2-inch pieces
1 bunch of Kale, washed with stems removed and cut into 2-inch pieces
4 TBSP extra virgin olive oil
1 medium yellow onion, diced
1 TSP red chili flakes
1 TSP cayenne pepper
1 TSP cumin
2 TBSP. raisins
2 lemons (zest)
Cooking Directions
In a large stockpot, bring 6 quarts of water to a boil. Dump greens in batches and boil for 4 minutes. Remove from water, and allow to rest.
In a 12-inch skillet, heat olive oil until smoking. Add onions, chili flake, cayenne pepper, cumin and raisins. Cook for 7 minutes.
Add cooked greens to skillet and cook for an additional 15 minutes. Finish with lemon zest, and add kosher salt. Serve.
*Recipe courtesy of Mario Batali
Other Recipes That You Might Like