Splenda's Choco-Chip Cookies
From Splenda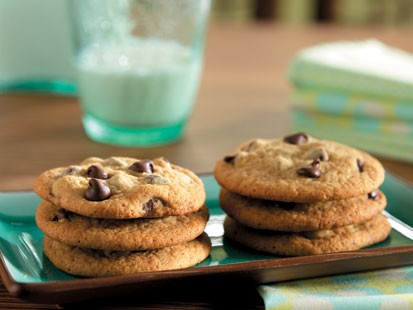 From the kitchen of Splenda
|
"Wow them again and again with each fresh batch of these delicious chocolate chip cookies!"
Ingredients
2/3 cup butter or margarine, softened
2/3 cup brown sugar, firmly packed
2/3 cup Splenda® No Calorie Sweetener, Granulated
2 teaspoons vanilla
2 eggs
1 1/2 cups all-purpose flour
1 teaspoon baking soda
1/4 teaspoon salt
1 cup semisweet chocolate chips
Cooking Directions
Preheat oven to 350 degrees F.
Cream butter, brown sugar, Splenda® Granulated Sweetener and vanilla together in a medium mixing bowl. Mix until well blended and creamy. Add eggs, one at a time, mixing well after each addition. Scrape sides of bowl.
Add flour, baking soda and salt. Mix until well blended. Stir in chocolate chips.
Place level tablespoons of cookie dough on an ungreased baking sheet.
Bake 10-12 minutes or until golden brown. Remove from oven and cool on a wire cooling rack.
Note: Serving Size: 1 cookie
Other Recipes That You Might Like