Elisabeth Hasselbeck's Lasagna
From 'The G-Free Diet: A Gluten-Free Survival Guide'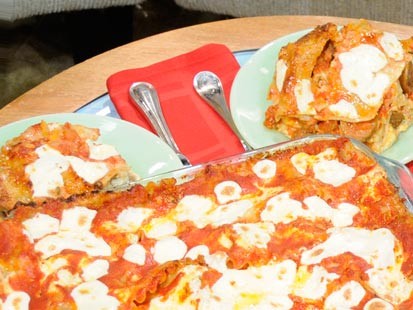 From the kitchen of Elisabeth Hasselbeck
|
Ingredients
1 pound container ricotta cheese
1 egg
1/4 cup chopped fresh parsley
1/2 cup hominy grits or coarse cornmeal (or 1/2 cup
gluten-free bread crumbs)
1 1/2 teaspoons salt
1/2 teaspoon fresh ground black pepper
pinch of cinnamon, optional
meatballs and sausage from the tomato sauce
12- to 16-ounce ball of low-moisture mozzarella cut into 1/2-inch cubes, or 12–16 ounces shredded mozzarella
3/4 cup grated Romano or Parmesan cheese
1 tablespoon olive oil or canola oil
1 1/2 pounds gluten-free lasagna noodles
3 to 4 cups tomato sauce
Cooking Directions
Preheat oven to 375 degrees.
In a large bowl, mix together ricotta cheese, egg, parsley, grits or coarse cornmeal (or gluten-free bread crumbs), 1/2 teaspoon salt, pepper, and cinnamon (if using). Set aside. If using gluten-free rice crumbs, which are harder than cornmeal, add 1/4 cup of water and allow rice crumbs to soften for several minutes.
Remove half of the meatballs and half of the sausage pieces from the tomato sauce. Slice the meatballs and the sausage, and set aside.
Set aside and reserve (for topping the lasagna) 2 tablespoons of the mozzarella and 2 tablespoons of the grated cheese.
Add 1 teaspoon of salt and 1 tablespoon of olive oil or canola oil (to prevent the noodles from sticking) to a large pot of water, and bring to a boil. Add the lasagna noodles and cook for about 6–7 minutes. The noodles should be harder than al dente because the noodles will continue to cook when baked.
Strain the noodles in a colander.
While the pasta is cooking, spoon about 1/2 cup of tomato sauce onto the bottom of a lasagna pan or a 9×13-inch baking dish.
Place a layer of cooked lasagna noodles over the sauce in the lasagna pan or baking dish. Drop spoonfuls of 1/3 of the ricotta mixture on the layer of noodles and spread the mixture. Add 1/3 of the meatballs and sausage over the ricotta. Spread 1/3 of the shredded or cubed mozzarella as the next layer. Next spread on top of the meat and cheese layers about 1/3 cup of the tomato sauce, and sprinkle 1/3 of the grated cheese on the sauce.
Make a second layer of cooked lasagna noodles, and add the ricotta, meatballs and sausage, cheeses, and tomato sauce as above.
Repeat the process to make a third layer of lasagna noodles and meat and cheese fillings.
Cover the last layer of fillings with a layer of cooked lasagna noodles. Spoon a thin layer of sauce over the top of the lasagna noodles. Be sure the sauce reaches the corners. Sprinkle the reserved mozzarella and then the reserved grated cheese over the sauce. Cover with aluminum foil.
Bake the lasagna until the corners bubble, about 30–40 minutes. Remove the foil and bake uncovered for 7–10 minutes.
Remove the baked lasagna from the oven, cover with foil, and let it stand for 10 minutes before cutting and serving. Cut into squares and serve with extra grated cheese and warm tomato sauce on the side, if desired.
Other Recipes That You Might Like