Kathy Freston's Chocolate-Raspberry Mousse Pie
From the book "Quantum Wellness Cleanse"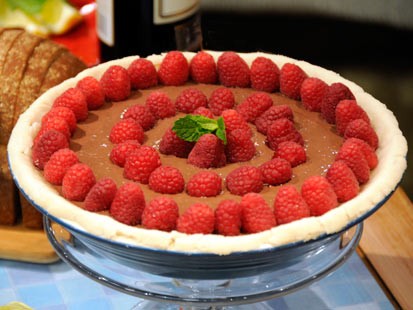 From the kitchen of Kathy Freston
|
Talk show host extraordinaire Oprah Winfrey has made no secret of her latest round in her ongoing battle of the bulge and after trying Kathy Freston's 21-day Wellness Cleanse the television staple sang its praises and even blogged about it.
In Freston's new book, "Quantum Wellness Cleanse," the bestselling author offers readers a away to lose weight and improve overall health by eliminating what she calls "the big five."
Freston claims ditching caffeine, gluten, sugar, alcohol and animal products for just 21 days will change your life by changing your tastes, curbing cravings and giving you more energy.
She believes her diet isn't about depriving yourself, but rather, replacing those foods with healthier choices.
Check out her recipe below.
Ingredients
For the Dough:
3/4 cup rice flour
1/4 tsp. salt
1/2tsp. xanthan gum
2 Tbsp. plus 1 tsp. vegan butter (try Earth Balance brand), chilled
2 Tbsp. plus 1 tsp vegetable shortening, chilled
2 Tbsp. cold water
For the Filling:
11/4 lbs. silken tofu
3/4 cup agave nectar
1/4 cup soy milk
1 Tbsp. vanilla
2/3 cup high-quality unsweetened cocoa powder
1/4 cup raspberries (plus more for garnish)
Cooking Directions
For the Dough:
Preheat the oven to 350°F.
Put the rice flour, salt, and xanthan gum in the bowl of a food processor and blend until well combined.
Either by hand or in the food processor, cut in chunks of the vegan butter and shortening.
Add the water a little at a time until a ball is formed, being careful not to over mix.
Roll the dough to 1/8 inch thickness and invert onto a 9-inch pie pan. Trim the overhanging edges.
Prick the dough with a fork and bake for 15 minutes, until brown.
For the Filling:
Mix the tofu in a food processor for several minutes, until very smooth.
Add the agave nectar, soy milk, and vanilla. Pulse once or twice to blend.
Add the cocoa and raspberries and blend until smooth. Fill the baked crust with the tofu mixture and chill until slightly firm.
Garnish with additional raspberries and serve.
Other Recipes That You Might Like