Pat and Gina Neely's Key Lime Bars
'Down Home With the Neelys: A Southern Family Cookbook'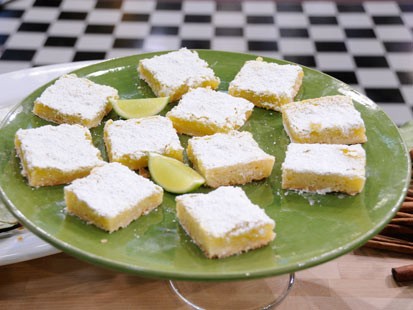 From the kitchen of Pat and Gina Neely
|
"These tart-sweet bar cookies are a variation on traditional lemon bars, and, girl, they are a vacation in a pan! The tender cookie base holds a puckery lime filling that gets a little extra kick from grated lime zest. You can use fresh limes or that bottled key-lime juice you brought back from your last trip to the Gulf Coast. These bars need nothing more than a dusting of confectioners' sugar, and they make an ideal dessert for barbecues, picnics, and slumber parties," according to Gina Neely.
Ingredients
Cookie crust
1 cup unsalted butter
1/2 cup confectioners' sugar
2 cups all-purpose flour
Pinch kosher salt
Lime topping
4 large eggs, lightly beaten
2 cups sugar
6 tablespoons all-purpose flour
1/4 cup fresh lime juice (or bottled key-lime juice), plus 2 tablespoons
2 teaspoons lime zest, grated
Confectioners' sugar, for garnish
Cooking Directions
Preheat the oven to 350°F. Spray the bottom and sides of a 9×13-inch cake pan with nonstick spray.
To make the crust, combine the butter and confectioners? sugar in the bowl of an electric mixer fitted with the paddle attachment. Beat on medium-high speed for 2 to 3 minutes, until light and fluffy. Add the flour and salt, and mix another minute, until well combined (see note).
Transfer the dough to the prepared pan and pat out to an even thickness over the bottom of the pan. Bake the crust for 20 to 25 minutes, until lightly golden. Remove from the oven, and cool on a baking rack.
To make the topping, whisk together the eggs and sugar in a large mixing bowl. Add the flour, and whisk until just combined, then whisk in the lime juice and zest. Pour the lime topping over the cooled crust, then bake for an additional 25 minutes, or until the filling is set.
Allow the bars to cool completely. Generously dust with confectioners' sugar and cut into squares. For the neatest presentation, use a metal spatula or a butcher's scraper to remove the bars from the pan. Leftovers will keep for 2 or 3 days at room temperature, or for up to a week in the refrigerator.
Note: The cookie crust dough can be prepared up to 2 days in advance, then wrapped in plastic and stored in the refrigerator. When you're ready to bake the bars, simply bring
the dough to room temperature and pat out as described above.
* Courtesy "Down Home With the Neelys: A Southern Family Cookbook"
Other Recipes That You Might Like