Erin McKenna's Gluten-Free Blueberry Muffins
Allergy-Friendly Muffins From the 'BabyCakes' Cookbook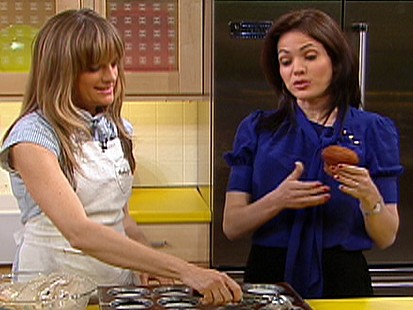 From the kitchen of Erin McKenna
|
Who doesn't love a good dessert? Cupcakes and muffins can be delicious delights for many, but for people with food allergies these treats can cause a lot of health problems. Luckily for them, Erin McKenna created the allergy-friendly BabyCakes NYC bakery and she's now sharing her recipes with the world in her new cookbook, "BabyCakes."
Here is the gluten-free blueberry muffin recipe McKenna made on "Good Morning America Health."
Ingredients
2 cups Bob's Red Mill All Purpose Gluten-Free Baking Flour
2 teaspoons baking powder
2 teaspoons baking soda
1 teaspoon salt
1/2 teaspoon xanthan gum
1/2 cup coconut oil
2/3 cup agave nectar
2/3 cup rice milk
2 teaspoons pure vanilla extract
1 teaspoon pure lemon extract
2/3 cup fresh blueberries
Cooking Directions
Preheat the oven to 325 degrees F. Line a standard 12-cup muffin tin with paper liners.
In a medium bowl, whisk together the flour, baking powder, baking soda, xanthan gum and salt. Add the oil, agave nectar, rice milk, vanilla and lemon extract to the dry ingredients, and stir until the batter is smooth. Using a plastic spatula, gently fold in the blueberries just until they are evenly distributed throughout the batter.
Pour 1/3 cup batter into each prepared cup, almost filling it. Bake the muffins on the center rack for 22 minutes, rotating the tin 180 degrees after 15 minutes. The finished muffins will bounce back slightly when pressed, and a toothpick inserted in the center will come out clean.
Let the muffins stand in the tin for 15 minutes, then transfer them to a wire rack and cool completely. Store the muffins in an airtight container at room temperature for up to 3 days.
Other Recipes That You Might Like