Archibald's Ribs
From Northport, Ala.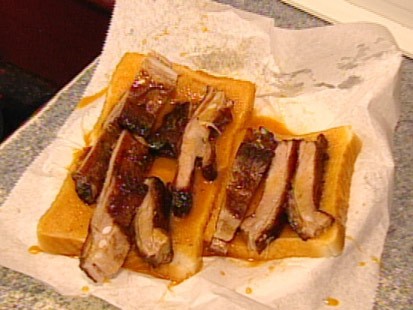 From the kitchen of Archibald's BAR-B-QUE in Northport, Ala.
|
Current owner George Archibald Jr. says, "I've been in the barbecue business all my life. This is just a small little place. I just build a fire and keep the fire low and cook it slow."
At Archibald's, they're careful to guard the recipe to their signature barbecue sauce, so you'll have to improvise with your favorite store-bought sauce to complete this homage to their famous dish.
Ingredients
Archibald's Ribs
1 rack of fresh ribs
4 slices white bread
Hickory wood
Your favorite barbecue sauce
Cooking Directions
Archibald's Ribs

Cook ribs slow on pit over a medium fire using the hickory wood for 1 hour. Cook until meat is tender, allowing the hickory smoke to add flavor. Take the cooked rack off the pit and cut into individual ribs
Place 6 ribs on two pieces of white bread next to each other. Pour Archibald's Secret Barbecue sauce, or your favorite barbecue sauce, over meat. Place two more pieces of bread flat on ribs. Enjoy.
Other Recipes That You Might Like