Rocco DiSpirito's Spiced Orange Marmalade Flank Steak
Sweet and Spice Meet Steak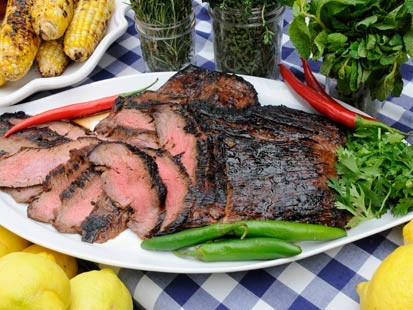 From the kitchen of Rocco DiSpirito
|
Toss this spicy sweet steak on the grill for a tasty treat. Plan ahead to marinate overnight. The reserved marinade is cooked into a glaze.
Ingredients
1 12-ounce jar orange marmalade, English if possible
1/2 cup red wine vinegar
1 tablespoon chili powder
2 tablespoons A1 steak sauce
1/2 cup ketchup
2 tablespoons Dijon mustard
1 tablespoon Worcestershire sauce
3 pounds flank steak
Salt and freshly ground pepper, to taste
Cooking Directions
In a large bowl, combine orange marmalade, red wine vinegar, chili powder, A1 steak sauce, ketchup, Dijon mustard, and Worcestershire sauce. Whisk to combine. Set aside 1 cup of the marinade. Add the steak to the remaining marinade and coat well. Cover and refrigerate overnight.
In a small saucepan, boil the reserved marinade for 5 minutes, or until thickened to a glaze consistency.
Preheat a grill. When it is too hot to hold your hand six inches above the grill for more than 5 seconds, it's ready. Remove the steak from the marinade and season both sides with salt and pepper. Grill until medium rare to medium, about 4 minutes on each side. Let the steak rest for 5 minutes.
To serve, brush the reserved marinade over the steak and cut against the grain into thin slices. Serve warm.
*Courtesy of Flavor by Rocco DiSpirito
Other Recipes That You Might Like