Home
>
GMA
>
Recipes Home
>
Wolfgang Puck's Grilled Shrimp and Lemon Wedges on Rosemary Skewers
Wolfgang Puck's Grilled Shrimp and Lemon Wedges on Rosemary Skewers
For GMA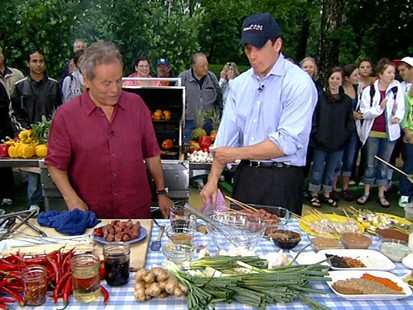 Chef Wolfgang Puck cooks everything from kabobs to summer rice salad.
From the kitchen of Wolfgang Puck
|
I make these lemony shrimp outside on the grill in summer and on my two-sided indoor grill in winter. The shrimp are marinated in a mixture of lemon juice, olive oil, and garlic before being skewered on rosemary sprigs along with lemon wedges. The grilled lemon infuses the shrimp and the combination is terrific. If you can't find sturdy rosemary sprigs use wooden skewers, soaking them for 30 minutes before skewering the shrimp and lemon wedges. Serve this shrimp with rice or roasted potatoes.
Ingredients
3 tablespoons freshly squeezed lemon juice
3 tablespoons extra-virgin olive oil
1 teaspoon lemon zest, grated
2 or 3 fresh basil leaves, cut into fine julienne strips
2 cloves garlic, minced
1 1/2 pounds large shrimp, peeled and deveined
2 lemons, cut into 8 wedges, seeds removed
8 sturdy fresh rosemary sprigs, each 6 to 8 inches long
Kosher salt and freshly ground black pepper
Cooking Directions
In a large nonreactive bowl, whisk together the lemon juice, olive oil, lemon zest, basil, and garlic. Add the shrimp, stir to coat them evenly, cover with plastic wrap, and refrigerate for at least 1 hour and no more than 3 hours.
Preheat an outdoor grill, an indoor double-sided grill or the broiler. With the tip of a small, sharp knife, carefully remove any visible seeds from the wedges. Set the wedges aside.
Strip the leaves from each rosemary sprig, leaving just a tuft at one end. With the knife or gardening sheers, trim the opposite end of each branch to a point.
Remove the shrimp from the marinade and skewer them on the rosemary sprigs, passing the point of each branch through both the head and tail end of each shrimp and alternating the shrimp with lemon wedges on the skewers.
When the grill or broiler is ready, season the shrimp on both sides with salt and pepper to taste. Place the skewers on the grill rack directly over the fire, or under the broiler, and cook until they turn bright pink all over, 1 to 2 minutes per side, turning the skewers once with long-handled tongs. If using an indoor double-sided grill, grill for 2 minutes only.
Serve immediately, encouraging guests to slide the shrimp and lemon wedges carefully off their skewers and squeeze the warm lemon wedges over the shrimp.
*Courtesy of Wolfgang Puck's "Wolfgang Puck Makes it Easy."
Other Recipes That You Might Like