John DeLucie's Sumptuous Crab Cakes
Chef's Table: Waverly Inn Recipe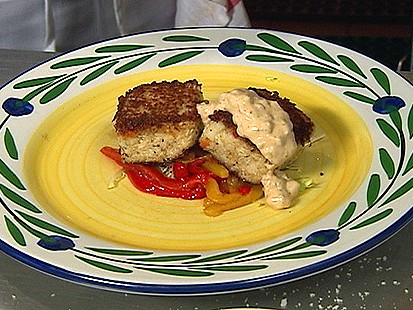 Waverly Inn chef John Delucie sautees special mayonnaise into lump crab cakes.
From the kitchen of John DeLucie
|
Chef John DeLucie shares his recipe for a seafood starter of lump crab.
Ingredients
For the Crab Cakes:
1 teaspoon unsalted butter
1/2 small onion, chopped
1 red bell pepper, chopped
1 small carrot, chopped
1 rib of celery, chopped
1 teaspoon coars kosher salt
1/2 cup helmans mayo
1 pound lump crab meat
1 1/2 teaspoon old bay seasoning
1/2 teaspoon ground black pepper
6 tablespoons panko bread crumbs
Cooking Directions
Assembly:
Pick over the crab meat to remove any bits of shell and cartilage, being careful not to break up the lumps of crab.
Cook the onion, carrot, pepper and celery in 1 Tbsp of butter in a small skillet, over medium high heat, until the vegetables are softened. Let cool.
Gently fold the crab-meat with the vegetables, black pepper, old bay and mayo . Note that the mixture will be very wet. Gently form the mixture into four or six cakes.
Line a tray with a piece of wax paper just large enough to hold the cakes and sprinkle it with half of the bread crumbs. Set the crab cakes in one layer on the top of the paper and sprinkle with the remaining bread crumbs. Cover the crab cakes loosely with another sheet of wax paper and chill for one hour.
Melt the remaining 3 Tbsp of butter in a large nonstick skillet over medium high heat until the foam subsides.
Cook the crab cakes until golden brown, about 3 minutes on each side.
If crab cake is larger or dense in shape then pop in oven for 2 minutes at 325 degress to warm inside.
Other Recipes That You Might Like