Rip Esselstyn's Big Breakfast Bowl
Recipe Courtesy Rip Esselstyn, Adapted From 'The Engine 2 Diet'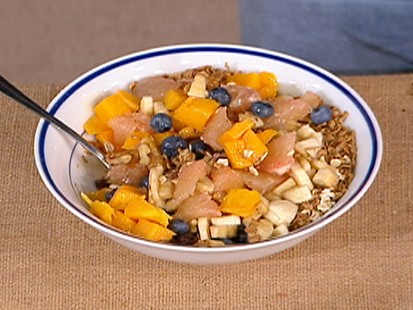 How eating like a fireman could actually help you lose weight.
From the kitchen of Rip Esselstyn
|
Ingredients
1/4 cup old-fashioned oats
1/4 cup Grape-Nuts or Ezekiel brand equivalent
1/4 cup bite-size shredded wheat
1/4 cup Uncle Sam Cereal
1 tablespoon ground flaxseed meal
2 tablespoons raisins
1/2 handful of walnuts
1 banana, sliced
1 kiwi, sliced
1 grapefruit
3/4 cup milk substitute of choice
Cooking Directions
Toss all ingredients except the grapefruit and milk substitute into a bowl.
After cutting the grapefruit in half, use a small, sharp knife to remove the segments.
Add the segments to the top of the bowl and squeeze in the juice.
Top the bowl with milk substitute.
Variations: In a pinch, simply add water (the fruits blend with the water and give it a sweet taste).
Add any fresh or frozen fruit, such as peaches, cherries, mangoes, blueberries, or red grapes.
If you want to lower your cholesterol levels even more, use half a cup of oats and omit one of the quarter cups of the other cereals.
From THE ENGINE 2 DIET by Rip Esselstyn. Copyright © 2009 by Rip Esselstyn. Used by permission of Wellness Central, an imprint of Grand Central Publishing. All rights reserved.
Other Recipes That You Might Like