Florian Hugo's Tomato Tarte
Chef's Table: Brasserie Cognac Recipe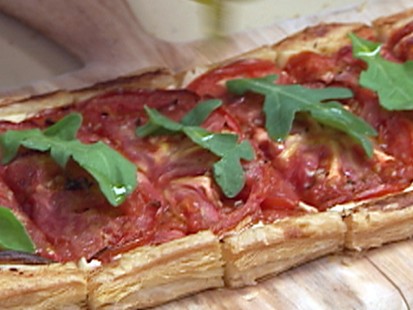 Brasserie Cognac chef Florian V. Hugo layers on a warm tomato explosion.
From the kitchen of Florian V. Hugo
|
Chef Florian V. Hugo layers on a warm tomato explosion.
Ingredients
For the Tomato Tart:
6 sheet puff pastry, sized up at 10x5inches
3 beefsteak tomatoes, sliced in 10
For the Tomato Fondue:
3 beefsteak tomatoes, peeled, seeded and cut in 8
½ can tomatoes, peeled
1 onion , finely diced
5 garlic cloves, peeled and chopped
3oz extra virgin olive oil
1 aromatic bouquet (thyme, parsley, sage, tied up together)
dash of salt, pepper, sugar
For the Goat Cheese Mix:
1 log montrachet (or equivalent )fresh goat cheese
3oz E.V olive oil
2 sprigs of thyme, chopped
2 sprigs of rosemary, chopped
dash salt, pepper
Cooking Directions
For the Tomato Fondue:
In a large sautéed pot, sautéed in high heat the olive oil, the garlic, onion, tomato and canned tomatoes, for about 5 min. Add a pinch of salt, sugar and black pepper.
Add the bouquet, stir a little then palce in oven and cooked for half hour at 350f degrees, stirring every 5 min.
Reserve in the fridge.
Puree it a little using a robot coupe or traditional blade mixer.
For the Goat Cheese Mix:
Put the cheese in a plastic mixing bowl and soften it using a microwave (45 seconds).
Add the rest of the ingredients and stir thoroughly until smooth.
For the Tart
Place all 6 puff pastry on one non stick baking tray.
Spread the goat cheese on each, leaving half inch clear on each side of the dough.
Spread on top, and mostly in the middle, one large spoon of the fondue
Place 5 slices of the tomato on top.
Drizzle with olive oil and remaining chopped herbs if you have.
Cooked in oven at 380F degrees.
To Finish:
When dough is cooked (elevated and becomes firms underneath), remove from cooking tray and let it cool down for 2 minutes on a rack, so it doesnt get soggy.
Preferably, serve on a wooden tray or rectangular plate.
Other Recipes That You Might Like