Jon Bonnell's Lamb with Mac n Goat Cheese
Chef's Table: Bonnell's Fine Texas Cuisine Recipe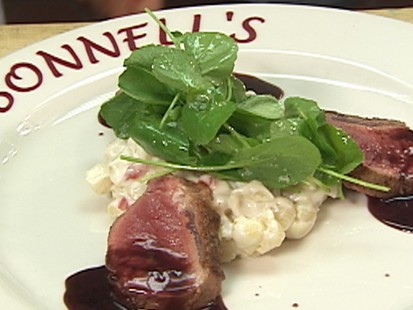 Chef Jon Bonnell pairs a hearty meat dish with a classic twist.
From the kitchen of Jon Bonnell
|
Chef Jon Bonnell serves creamy goat cheese around hearty lamb
Ingredients
For the Lamb:
6-7 ounce lamb loin, boneless
2 pinches of kosher salt
1 teaspoon canola oil
1/2 cup red wine
1 tablespoon veal demiglace
1/4 teaspoon butter
For the Mac n Goat Cheese:
1 cup cooked small pasta shells
1 1/2 cups goat's milk
1 tablespoon flour
1 tablespoon butter
pinch of kosher salt
pinch of white pepper
1 small jalapeno pepper, seeds removed, finely diced
1/2 roma tomato, seeds removed, finely diced
1 ounce fresh goat's cheese
For the Garnish:
1 small bunch fresh watercress
1 tablespoon extra virgin olive oil
1/2 tablespoon fresh lemon juice
1/2 ounce fresh goat cheese
salt and pepper
Cooking Directions
For the Lamb:
Season the lamb loin with salt on all sides, then sear in a hot sauté pan in just a touch of vegetable oil. Brown on all sides and cook till desired temperature is reached (130 degrees internal temp for medium rare). Allow the meat to rest for 2-3 minutes before slicing.
Slice into medallions and plate with mac n goat cheese, then top with lemony watercress greens.
For the Reduction:
In the same pan, deglaze with red wine and reduce until the pan is almost dry. Add in the demiglace, mount with a dab of butter and swirl just until the butter is completely melted. Season with a pinch of salt and pepper. Pour the sauce over the lamb medallions just before serving.
For the Mac n Goat Cheese:
Add the butter and flour together in a saucepot and whisk together over low to medium heat until a roux has formed. Do not cook until brown, just to the stage where the butter begins to cook the flour and it starts to smell like sourdough toast. Remove from pan and set aside.
Add the goat's milk to the pan and season with salt and pepper. Reduce by 1/3 then add in the cooled roux. Whisk together and bring to a simmer.
The sauce will thicken when a simmer is reached. If the sauce is too thick, add a little more milk. If it's too thin, reduce more.
Add the diced jalapenos, tomatoes, goat cheese and pasta and stir together. Check for seasonings and plate using a ring mold.
For the Garnish:
At the last possible moment, dress the watercress greens with the lemon juice and olive oil in a mixing bowl, add a few pieces of goat cheese then place on top of the mac n cheese.
If this step is done too far ahead, the watercress will wilt.
Recipe Summary
Main Ingredients: lamb loin, pasta, mac n cheese, goat cheese, red wine, watercress, lemon dressing, demiglace, flour, butter, goat's milk
Course: Dinner, Main Course, Pasta
Other Recipes That You Might Like