David Burke's Butterscotch Panna Cotta With Chocolate
Chef's Table: David Burke Townhouse Recipe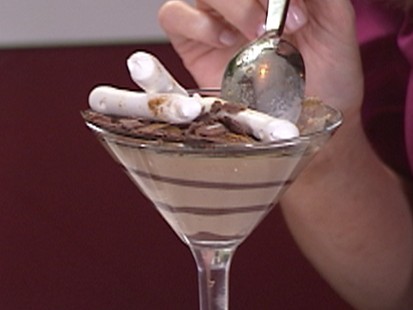 Chef David Burke combines candies into cooked cream.
From the kitchen of David Burke
|
Chef David Burke combines old fashioned candies into cooked cream.
Ingredients
For the Panna Cotta:
2 1/4 - 2 1/2 teaspoons Knox powdered gelatin
2 cups heavy cream
1 3/4 cups heavy cream
8 ounces butterscotch candies, crushed
2 tablespoons vanilla extract
For the Chocolate Glaze:
8 oz chocolate chips
3 oz cocoa butter
For the Chocolate Ganache:
3 tbsp chocolate chips
1 tbsp heavy cream
Cooking Directions
For the Panna Cotta:
In a bowl, add powdered gelatin to the 2 cups of cold heavy cream. Set aside. In a pot, combine the 1 3/4 cups heavy cream, candies and vanilla extract and slowly bring to a boil, so as to infuse the cream with the butterscotch candy.
Once the mixture comes to a boil, stir in the 2 cups of cream with powdered gelatin and stir. Then turn off the heat. Before liquid is completely cooled, strain the liquid through a fine mesh strainer and strain directly into containers of your choice, such as espresso cups, martini glasses or ramekins.
Refrigerate for at least 8 hours so that panna cotta sets properly. Line inside of containers with chocolate ganache in patterns of your choice and finish with layer topping of chocolate glaze.
For the Chocolate Glaze:
Over low heat, melt cocoa butter. Remove from heat and pour chocolate chips into the pot and stir until completely melted. Let set for at least five minutes. Pour approximately one tbsp of this mixture overtop of the panna cotta.
For the Chocolate Granache:
Over low heat, combine chocolate chips and heavy cream and melt together. Let cool to room temperature and then pour into a squeeze bottle. Create a swirl starting at the bottom of a martini glass going up to the top of the martini glass.
Other Recipes That You Might Like