Home
>
GMA
>
Recipes Home
>
Wolfgang Puck's Stacked Tomatoes and Mozzarella With Balsamic Reduction
Wolfgang Puck's Stacked Tomatoes and Mozzarella With Balsamic Reduction
Wolfgang Puck Presents a Twist on the Classic Italian Salad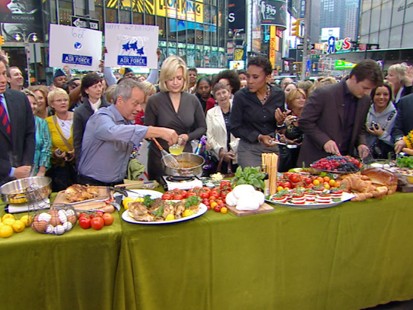 The acclaimed chef prepares pan-roasted chicken.
From the kitchen of Wolfgang Puck
|
"All you need for this vertical rendition of a classic tomato-mozzarella salad is fresh seasonal tomatoes, a drizzle of reduced balsamic vinegar (see above), and a little extra virgin olive oil. After reduing balsamic vinegar to a syrupy consistency, a few drops will add tremendous flavor to practically any salad." -- Wolfgang Puck
Recipe courtesy Wolfgang Puck, "Wolfgang Puck Makes it Easy" Rutledge Hill Press, 2004/i>
Ingredients
For the stacked tomatoes and mozzarella:
1 medium or large tomato, cut crosswise into ¼-inch-thick slices
Salt and freshly ground pepper
2 ounces fresh mozzarella, cut crosswise into 1/2-inch-thick slices
3 to 4 leaves of basil, slivered
½ teaspoon reduced balsamic vinegar
2 teaspoons olive oil
For the balsamic reduction:
1 cup balsamic vinegar
Cooking Directions
To make the stacked tomatoes and mozzarella:
Stack the tomato slices and mozzarella, seasoning each slice of tomato with salt and pepper, and ending with a tomato slice.
Sprinkle the top with salt, pepper, and basil.
Drizzle on the balsamic vinegar and the oil just before serving.
Garnish with store-bought breadsticks or make your own, if desired.
To make the balsamic reduction:
Bring the vinegar to a boil in a small saucepan over medium heat.
Turn the heat to low and reduce to 1/3 to ½ cup.
The vinegar will thicken as it cools.
Refrigerate in a covered container.
*This will keep in a cool place for months
Other Recipes That You Might Like