Home
>
GMA
>
Recipes Home
>
Emeril Lagasse's Hearts of Romaine With Warm Caramelized Onion Dressing
Emeril Lagasse's Hearts of Romaine With Warm Caramelized Onion Dressing
This Salad Comes to Your Table With a Lot of Heart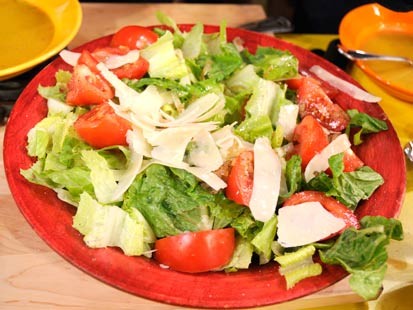 From the kitchen of Emeril Lagasse
|
Hearts of romaine with caramelized onion dressing was chosen as one of the three final dishes in the "Come Together" campaign, urging people to have dinner parties and donate money to Feeding America, which feeds hungry Americans. "Good Morning America" and Macy's were also part of the project.
CLICK HERE to learn more about "Come Together."
Ingredients
2 tbsp olive oil
1 cup onion, chopped
1 tsp salt
1 tsp pepper
1/2 cup white wine vinegar
2 tsps. granulated sugar
3 hearts of romaine, cut into one-inch pieces
3 tomatoes, cut into wedges
1 cup of Parmesan shavings (from a 4 oz. chunk)
Juice of half a lemon
Cooking Directions
In a medium skillet, heat olive oil over high heat.
Add onion, salt, and pepper and sauté until golden brown. Add white wine vinegar and sugar, and simmer until reduced by half.
Place prepared lettuce and tomato in a large salad bowl, decoratively.
Pour warm reduced dressing over the salad.
Top with parmesan shavings and squirt of lemon juice. Serve.
Other Recipes That You Might Like