New England Clam Chowder
A Low Calorie Clam Chowder? Yes, It Is Possible!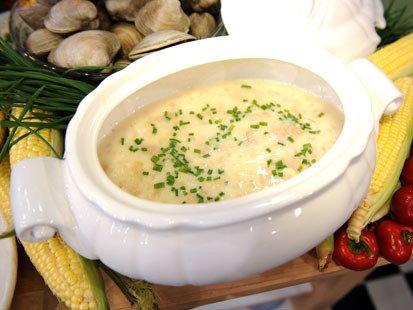 From the kitchen of Rocco DiSpirito
|
"This clam chowder has been an American classic since the early 1800s and it's easy to see why. Cream -- strike one! White potatoes -- strike two! Bacon -- should be strike three, you're out! Here's the good news: By replacing whole milk and cream with skim milk and yogurt, I had a calorie deficit -- which I used to include some bacon."
-- Rocco DiSpirito
CLICK HERE to follow Rocco on Twitter!
Ingredients
1 medium yellow onion, diced
4 garlic cloves, chopped finely
4 cups cauliflower florets
1 1/2 cups skim milk
Three 6.5-ounce cans chopped clams, with their liquid
2 tablespoons cornstarch
6 tablespoons real bacon bits, such as Hormel Real Bacon Bits
2/3 cup Greek yogurt
2 tablespoons chopped fresh chives
Salt and freshly ground black pepper
Cooking Directions
In a large Dutch oven, combine the onion, garlic, cauliflower and milk. Bring the mixture to a boil over high heat. Reduce the heat to low, cover, and simmer until the vegetables are tender, about 7 minutes.
Strain the clams, reserving the juice. In a medium bowl, whisk the clam juice into the cornstarch.
Raise the heat under the Dutch oven to medium, and whisk the cornstarch mixture into the soup. Bring the soup to a boil, whisking constantly. Then reduce the heat and simmer until the soup has thickened, about 2 minutes.
Add the clams and bacon to the soup, and remove from the heat. Whisk in the yogurt and chives. Season the soup with salt and pepper to taste, and serve.
Serves 4.
Nutritionals:
Traditional: Calories: 480 Fat: 33g
Rocco's: Calories: 299 Fat: 9g
Protein: 34g, Carbs: 24g, Cholest.: 121g, Fiber: 3g, Sodium: 1,130mg
Courtesy "NOW EAT THIS! Fried Chicken, Macaroni 'n' cheese, Brownies, and 147 Other Favorite Dishes You Thought You Could Never Eat -- All Under 350 Calories" by Rocco DiSpirito (A Ballantine Books Trade Paperback to be published on March 2, 2010)
Other Recipes That You Might Like