Three-Cheese Baked Macaroni
Cheese + Pasta = One Tasty Dish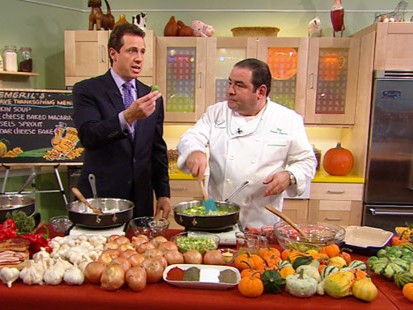 The chef prepares pumpkin soup, macaroni and brussel sprouts.
From the kitchen of Emeril Lagasse
|
Emeril's three-cheese baked macaroni is sure to be a hit and is an easy dish to make ahead at Thanksgiving or any time of year.
Ingredients
8 ounces elbow macaroni
3 ounces bacon (about 3 strips), sliced crosswise into 1/2-inch pieces
1 1/2 teaspoons minced garlic
3 eggs
1 1/2 cups evaporated milk
1/2 teaspoon salt, plus more for the pasta water
1/4 teaspoon cayenne pepper
1/8 teaspoon freshly grated nutmeg
6 ounces sharp cheddar cheese, grated (about 11/2 cups)
2 ounces Monterey Jack cheese, grated (about 1/2 cup)
1 ounce Parmigiano-Reggiano cheese, finely grated (about 1/2 cup)
Cooking Directions
Prep time: 8 minutes Cook time: 20 minutes Inactive time: 10 minutes Total: 38 minutes
Preheat the oven to 425°F.
Bring a large pot of salted water to a boil. Add the macaroni and cook until just tender, about 6 minutes. Drain, and set aside.
While the pasta is cooking, heat a small sauté pan over medium heat and add the bacon. Cook until the fat is rendered and the bacon is crisp, about 6 minutes. Add the garlic and cook until fragrant, 30 seconds to 1 minute. Drain the fat from the bacon-garlic mixture, and transfer the mixture to a medium bowl.
Add the drained macaroni to the bacon mixture, and stir to combine.
In a large bowl, whisk the eggs and evaporated milk together. Add the 1 /2 teaspoon salt, cayenne, nutmeg, and grated cheeses, and mix well. Add the macaroni-bacon mixture, and stir well to blend.
Transfer the macaroni to an 8- or 9-inch square baking dish or gratin dish of similar size. Using a
spoon, gently spread the mixture to form an even layer. Place in the oven and bake for 12 minutes. Remove the macaroni and cheese from the oven and let it rest for at least 10 minutes before serving.
Recipe courtesy Emeril Lagasse, Emeril's 20-40-60, Harper Studio Publisher, New York, 2009, courtesy MSLO, Inc.
Other Recipes That You Might Like