Vegetable Potato Salad with Italian Dressing
Delicious Salad for Diabetics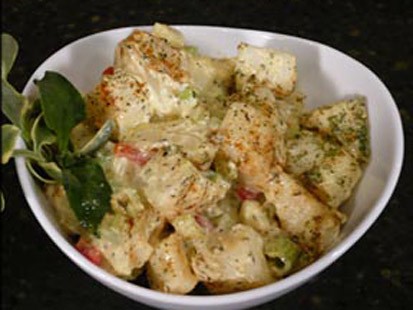 From the kitchen of Merck & Co.
|
It can be hard to keep meals delicious when tied down by the limitations of diabetes. This scrumptious recipe can be enjoyed by diabetics who want to spice up their meals, or even the entire family.
Ingredients
1 pound red or white potatoes, peeled
1/4 cup celery, diced
1/4 cup green peppers, diced
1/4 cup red peppers, diced
1 1/2 teaspoons basil
3 tablespoons non-fat sour cream
1/3 cup low-fat Italian dressing
2 teaspoons mustard
1/2 teaspoon seasoned salt
2 teaspoons sugar substitute, brown sugar blend
1/4 teaspoon freshly ground pepper
Paprika and fresh herbs, optional
Cooking Directions
Peel potatoes and cut into 1 1/2-2 inch cubes. Cook potatoes in a large pot until tender, about 10 minutes. Do not overcook. Drain the potatoes and let them cool. In a large bowl, combine the potatoes, celery, green and red peppers, and basil. In a small bowl, stir together sour cream, Italian dressing, mustard, seasoned salt, sugar substitute (Splenda), and pepper. Pour the dressing over the potatoes and toss gently until thoroughly coated. Refrigerate at least 4 hours to blend flavors and chill. Sprinkle with paprika and garnish with fresh herbs.
Other Recipes That You Might Like