Sara Moulton's Pumpkin Flan
There's Always Room for Dessert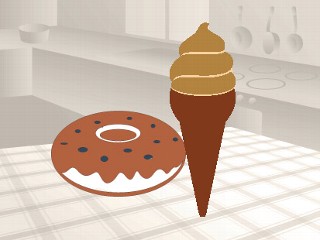 From the kitchen of Sara Moulton
|
Ingredients
1 cup sugar
1/2 cup whole milk
1 5-ounce can evaporated milk
2 cinnamon sticks, broken into small pieces
3 large eggs
1/4 teaspoon table salt
1 cup cooked or canned pureed pumpkin
2 tablespoons dark rum
1/2 teaspoon ground ginger
1/4 teaspoon freshly grated nutmeg
1/2 cup heavy cream
1 teaspoon sugar
2 tablespoons minced crystallized ginger, optional
Cooking Directions
Make a caramel syrup by spreading half of the sugar in the bottom of a heavy skillet. Cook over medium heat until the sugar starts to melt, 5 to 7 minutes. Stir gently so that the sugar melts evenly. Cook, watching carefully to prevent burning, until the sugar turns dark, 7 to 10 minutes. Remove from the heat and carefully pour into six 1-cup custard cups or ramekins. Immediately turn to coat the base and sides evenly with the hot caramel. Set aside.
Combine the milk and evaporated milk in a small saucepan. Warm over medium high heat until bubbles appear around the edges. Add the cinnamon sticks and cover. Remove from the heat and set aside to infuse for 15 minutes.
Preheat the oven to 350° F. Line the bottom of a baking pan large enough to hold the ramekins snugly with a clean kitchen towel and bring a large saucepan of water to a boil. (The towel will prevent the ramekins from hitting the pan as they bake.)
Beat the eggs with the remaining sugar and the salt in a large bowl until light and lemon colored. Beat in the pumpkin, rum, ginger, and nutmeg. Pour the milk mixture through a fine mesh strainer into the bowl and discard the cinnamon. Stir the mixture until smooth and ladle equal amounts into the ramekins.
Arrange the filled ramekins on the towel in the pan. Place the pan on the middle rack of the oven and carefully pour in enough of the boiling water to reach about halfway up the sides of the dishes. Bake until a knife inserted into the center comes out clean, about 30 minutes. Remove the ramekins from the water bath and cool on wire racks. Cover with plastic wrap and refrigerate until very well chilled, at least 6 hours.
To unmold, run a knife around the flan to loosen. Hold a dessert plate or individual serving bowl with a flat bottom over the ramekin and invert quickly. Caramel will pour out and surround the flan.
Whip the cream with an electric mixer until it forms soft peaks. Add 1 teaspoon sugar and whip until it holds soft peaks. Serve the flans with a dollop of whipped cream and a sprinkling of crystallized ginger, if using.
* Courtesy "Sara Moulton Cooks at Home," Broadway Books, 2002
Other Recipes That You Might Like