Emeril's Garden Vegetable Soup
A Great Way to Serve Veggies to the Family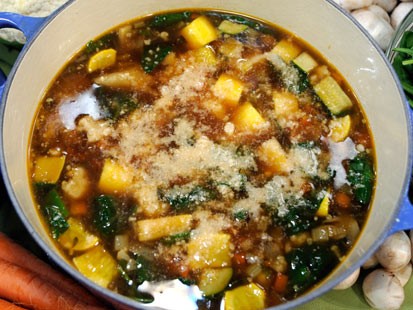 From the kitchen of Emeril Lagasse
|
"Don't be afraid to make this straightforward, veggie-packed soup your own by using the vegetables you especially like or you have on hand. For instance, replace the zucchini and yellow squash with frozen green peas and frozen corn. If you're a tomato lover, two cups of chopped canned tomatoes can be substituted for two cups of the roth. Also, you could gild the lily by adding three cups of cooked macaroni or other small pasta, or a bit of cooked rice, right before serving. The sky's the limit here."
--Emeril Lagasse
Ingredients
6 sprigs parsley
2 bay leaves
2 tablespoons olive oil or butter
2 cups diced onions
1 1/2 cups diced carrots
1 1/2 cups diced celery (small dice, with or without leaves)
2 tablespoons minced garlic
8 ounces button mushrooms, wiped clean, stemmed, and quartered (about 2 cups)
4 quarts beef, chicken, or vegetable stock or canned, low-sodium beef, chicken, or vegetable broth
1 1/2 teaspoons salt
3/4 teaspoon freshly ground black pepper
2 cups broccoli or cauliflower florets, cut into bite-size pieces
1 cup diced zucchini (large dice)
1 cup diced yellow squash (large dice
One 10-ounce bag prewashed spinach
1/2 cup grated Parmigiano-Reggiano cheese (optional)
Cooking Directions
Tie the parsley sprigs and bay leaves together with a piece of kitchen twine. Set aside.
Heat the olive oil in a 6-quart (or larger) soup pot over high heat. Add the onions, carrots, celery, and the parsley bundle, and cook for 2 minutes, stirring frequently. Add the garlic and mushrooms, and cook for 3 minutes. Add the broth, salt, and pepper. Cover the pot and bring to a boil. Remove the cover, reduce the heat to medium-low, and simmer for 12 minutes.
Add the broccoli, zucchini, yellow squash, and spinach to the soup. Simmer for 5 minutes.
Remove the parsley bundle and serve the soup hot, garnished with the grated cheese if desired.
Yield: 4 quarts, 6 to 8 servings
Other Recipes That You Might Like