Beef Stroganoff with Noodles
Comfort Food at Its Best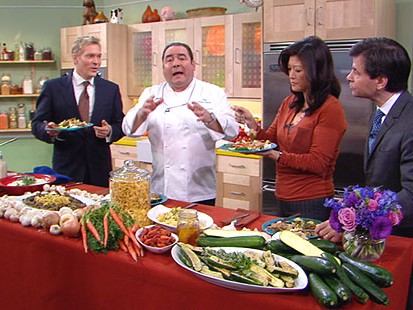 Emeril Lagasse prepares braised chicken thighs with rice.
From the kitchen of Emeril Lagasse
|
A classic recipe that is perfect for the cold weather. It is easy to make and it will be a hit with the family.
Ingredients
8 ounces extra-wide egg noodles
1 1/2 pounds rib-eye steak, sliced into 1/2-inch-thick strips
2 teaspoons salt, plus more for the pasta water
1 teaspoon freshly ground black pepper
4 tablespoons olive oil
3 tablespoons butter
1 1/2 cups thinly sliced onions
12 ounces button mushrooms, wiped clean, stemmed, and sliced (about 4 cups)
1 tablespoon chopped garlic
1 tablespoon all-purpose flour
2 cups beef stock or canned, low-sodium beef broth
1/2 cup sour cream
1 tablespoon chopped fresh parsley
Cooking Directions
Bring a large pot of salted water to a boil. Add the noodles and cook until just tender, about 8 minutes.
While the noodles are cooking, season the beef with 1 teaspoon of the salt and 1/2 teaspoon of the pepper.
Heat 2 tablespoons of the olive oil in a 12-inch saute pan over high heat. In two batches, brown the beef strips for 1 to 2 minutes per side. Transfer the beef to a plate and set aside.
Add the butter to the saute pan, and when it has melted, add the onions. Reduce the heat to medium and cook until the onions are soft, about 4 minutes. Add the mushrooms and continue to cook, stirring as needed, until nicely browned, about 7 minutes.
When the noodles are cooked, drain them, transfer them to a bowl, and toss with the remaining 2 tablespoons olive oil. Cover to keep warm until ready to add to the sauce.
Add the garlic and the remaining 1 teaspoon salt and 1 /2 teaspoon pepper to the mushroom mixture and cook, stirring, for 1 minute. Sprinkle with the flour, and stir. Increase the heat to high and whisk in the broth. When the liquid comes to a boil, reduce the heat to a simmer and cook for 5 minutes.
Return the beef, and any juices that have accumulated on the plate, to the saute pan. Whisk in the sour cream and parsley, and remove the pan from the heat. Fold in the warm noodles, and serve immediately.
6 servings
Recipe courtesy Emeril Lagasse, Emeril 20-40-60, Fresh Food Fast, HarperStudio Publisher, New York, 2009, courtesy MSLO Inc.
Prep time: 15 minutes
Cook time: 25 minutes
Total: 40 minutes
Other Recipes That You Might Like