Stracciatella With Pears And Speck
From 'Chef's Table'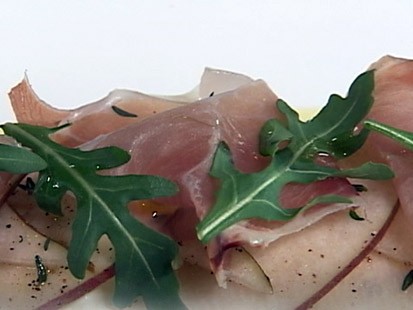 From the kitchen of Missy Robbins
|
Ingredients
For the Dish:
12 oz. straciatella cheese (can burratta)
1 pear, sliced thin on a mandolin
2 sprigs of thyme, leaves picked off
1 tablespoon red wine vinegar
2 tablespoons extra virgin olive oil
6 slices speck, cut in half
1 pint baby arugula
Sea salt and black pepper to taste
Cooking Directions
For the Dish:
Drain the cheese overnight. Keep refrigerated.
Put the sliced pears in a bowl and dress with the red wine vinegar, ½ of the olive oil, thyme, sea salt and black pepper.
Divide the cheese amongst 4 plates and dress with the remaining olive oil, sea salt and black pepper.
Lay the dressed pears over the cheese followed by the speck. Garnish with the arugula.
Other Recipes That You Might Like