Dr. Savard's Secret Morning Mix High-Fiber Granola
Get More Fiber With Dr. Marie Savard's Recipe for Delicious Homemade Granola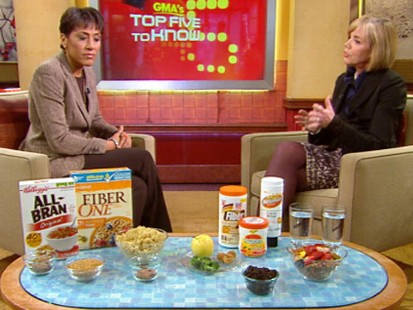 Dr. Marie Savard talks about five essential foods filled with fiber.
From the kitchen of Dr. Marie Savard
|
Ingredients
Raw oats
Ground flaxseed
Ground wheat bran
Unsweetened coconut (optional)
Raw pumpkin, sunflower and sesame seeds
Almonds, pecans or walnuts, slivered or sliced
1/2 cups of canola oil,
1/2 cup of natural peanut butter,
splash of water,
1/4 cup of honey and
1 TBSP cinnamon
Dried fruit (cherries, raisins, figs and/or blueberries)
Cooking Directions
Preheat the oven to 325 degrees F.
Spread raw oats into one or two baking sheets/roasting pans with sides. I make extra to freeze in zip lock bags. I never measure but suggest you use enough oats to generously cover the bottom of the pan. Add plenty of flax seed, wheat bran, seeds, nuts and coconut if desired. I never measure the amount and therefore use whatever I like best and have available.
Mix together canola oil, peanut butter, water, honey and cinnamon in a 2-cup glass measuring cup and heat at 50 percent power in the microwave for approximately two minutes (the peanut butter stays pretty lumpy). You can also heat the mixture slowly in a pan.
Stir into dry ingredients.
Bake at 325 for 20-30 minutes or so, stirring once or twice. Remove when "toasted" to a nice light brown color. On occasion I turn up the temperature to 350 degrees to toast more quickly.
When granola is baked and cooled, add some of your favorite dried fruit such as dried cherries, raisins, figs and blueberries!
This granola is a great gift for family and friends. Cool well before placing in freezer bags and storing in the freezer.
Other Recipes That You Might Like