Apple Pie
From 'Chef's Table'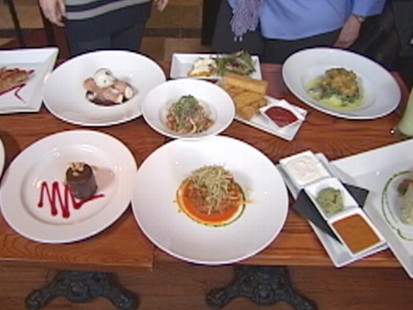 Candle 79 chef Jorge Pineda bakes a flavorful alternative dessert.
From the kitchen of Jorge Pineda
|
Ingredients
For the Pie Crust:
2 cup unbleached flour
1/2 teaspoon ground cinnamon
Pinch sea salt
1/3 cup Earth Balance
1/3 cup ice water
For the Pie Filling:
4 cups tart apples, such as Granny Smith, Jonathan or Northern Spy peeled, cored and sliced about 1/4-inch thick
3 tablespoons maple syrup
1 teaspoon fresh lemon juice
1 tablespoon arrowroot
1 teaspoon ground cinnamon
1/4 teaspoon ground nutmeg
Cooking Directions
For the Apple Pie:
Sift the flour, cinnamon and salt into a medium bowl. Add the Earth Balance and mix well.
Add water, gradually, to the mixture while continuing to mix the dough. Continue to mix until the dough is firm but not flaky. Roll up the dough, put into a bowl and let it rest in the refrigerator for 30 minutes.
Form the dough into 2 balls. Roll one out into a circle with a 1/2-inch thickness. Press into an 8-inch pie pan and trim, leaving 1/2-inch all around.
Preheat the oven to 350°F.
Combine the apples, maple syrup and lemon juice in a large bowl. Mix the, arrowroot, cinnamon and nutmeg together in a small bowl then toss with apple mixture. Add the filling into the pie shell.
Roll out the second ball of dough into a circle large enough to cover the pie. Top the pie with the dough, then trim any excess and crimp the edges. Cut 3 slits in the top crust.
Bake for 1 1/2 hours, until the pie crust is golden.
Other Recipes That You Might Like