American automakers may be struggling to find footing for the future, but it's a model from the nation's past that holds the potential to bring a boost to car lovers everywhere by becoming the world's most expensive car.
About the Car
The iconic 1965 Shelby Cobra Coupe is expected to sell for $10 million to $15 million and set an American, and potentially world, record for a car sale when it goes on the auction block in Indianapolis, Ind., May 15, prior to the Indy 500.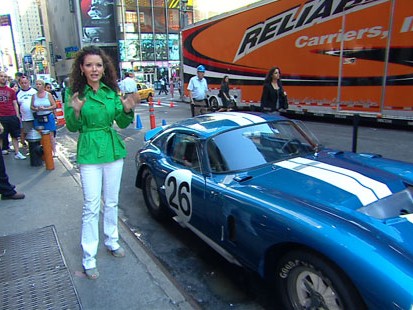 Not even an
anemic economy
can dissuade the auctioneer from selling this rare roadster because the business of auctioning classic American cars is thriving.
What makes the vehicle, dubbed the "American Jewel," so pricey is the fact that it was the first U.S. race car to ever beat Ferrari in world racing championships in Europe.
In addition, the Cobra Coupe also is one of only six cars like it in the world. Of the half dozen, it's the only one never to crash.
Check out more facts about this classic coupe below.
Peter Brock was only 22 years old when he designed the car and, ironically, it took some of his inspiration from 1939 German bus designs that had incredible aerodynamics.


The car, which was built by hand, has a unique tail designed for optimum speed. In fact, the car went 25 miles per hour faster than earlier models and was so fast, the car was actually slowed down a bit. It truly revolutionized car design.


The Shelby Cobra Coupe was instantly famous, but ironically, after winning in Europe, it almost ended up in the bottom of the Black Sea where someone was going to dump them.
Over the years its popularity and value increased with its legend.


It's stored in southern Wisconsin in a special storage area that keeps the elements at bay. It has its own transport team that takes it coast-to-coast for car enthusiast events.


Check out www.mecum.com for more information on classic cars.