Tiger-mania may have made this year's Masters the most watched ever, but it was Phil Mickelson's family drama that stole the spotlight in the tournament's finale Sunday.
Mickelson's wife, Amy, has battled breast cancer for nearly a year, and she did not feel strong enough to come watch the tournament in person all week. But after Mickelson sank his final putt to clench his third Master's jacket, his wife was there waiting for him.
With a cheering crowd in the background, Mickelson embraced his wife for 27 seconds before a short kiss.
"I really want to recognize my family," Mickelson said after the win. "My wife, we have been through a lot this year and it really means a lot to share this joy together."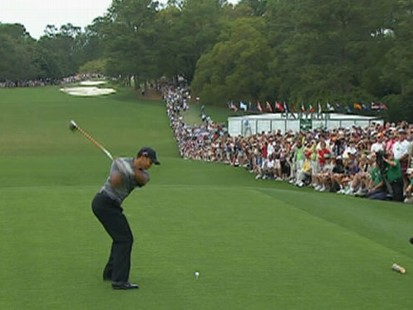 Fan focus shifted toward Mickelson gradually as Tiger Woods -- who posted his best ever Masters first round -- began to fall apart in the final round Sunday.
From the first hole on Sunday, Woods struggled to keep his shots and his emotions in line.
"I think people are making way too much of a big deal of this thing," Woods said later of his visible frustrations on the course during a day of scattered play. "I'm not going to be smiling, not going to be happy."
Woods finished tied for fourth place, five shots behind Mickelson.
"Unsuccessful," Woods said following the tournament. "I didn't get the job done."
But though he may have come up short in Sunday's last round, Woods silenced critics with his outstanding play earlier in the tournament.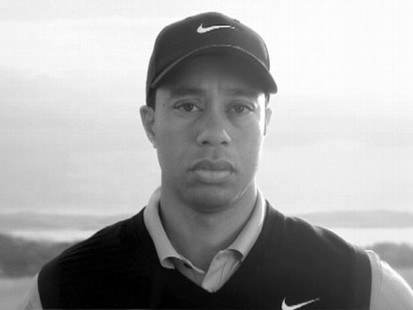 No Green Jacket, But Woods Surprises Critics
In a first round that surprised critics, Woods sank two eagles, showing very little rust after a long layoff. After months of headlines about affairs, therapy and his marriage, the scandal-plagued golfer shot four under par Thursday, his best opening round at the Masters ever.
"It is a reminder that he can do what most other golfers can't do. The 20 weeks, everything that has happened, has not changed his physical ability and talent to do this skill in this sport," ESPN golf anchor Mike Tirico said on "Good Morning America" last week. "It really is extraordinary to be away that long and be that good on this difficult course."
Woods didn't flinch when two taunting banners flew overhead during that first round. One read "Sex addict? Yeah. Right. Sure. Me too!!" (Woods has not specified what treatment he is receiving, although it is widely believed that he enrolled in a sex addiction rehab program.)
Instead the golfer concentrated on the fans who greeted him with more than a minute of applause.
Tirico was surprised by the warm reaction, calling it "strong and encouraging."
"[Woods] said off and on the air that that reception really put him in the mind frame for the success he had on the course," Tirico said.
The golfer also credits his success to practice, but John Feinstein, a golf writer and author, said there could be more to it.
"I'm saying this as a compliment, as selfish as he is about his golf it allows him to step inside the ropes, block out everything that's happened since Nov. 27 and play great golf," Feinstein said.
Since Woods arrived in Augusta, Ga., last week he has been trying to remake his image. He was friendly with the fans, his fellow golfers and even the press.
Shortly following the tournament, Woods expressed frustration with some of his shots and said he would "take some time off to re-evaluate things."
Nike Ad Audio Ripped from 2004 Documentary
Nike released a 33 second commercial last week showing Woods, wearing a Nike hat and shirt, staring into the camera as the voice of his dead father is played.
"Tiger," Earl Woods says in the commercial, seemingly speaking directly to the golfer. "I am more prone to be inquisitive, to promote discussion. I want to find out what your thinking was. I want to find out what your feelings are. Did you learn anything?"
But Earl Woods was not speaking to his son. The audio was ripped from a 2004 DVD where Earl Woods was talking about his wife, Kultida.
The black and white commercial, created by the ad agency Wieden + Kennedy, aired on the eve of Tiger's return to professional golf and evokes an imagined conversation between the golfer and his dead father presumably addressing the sex scandal that derailed the golfer's career for five months.
In the original sound bite from "Tiger: The Authorized DVD Collection," distributed by Buena Vista Home Entertainment, Earl Woods, however, does not use Tiger's name. In the original context, Earl was not talking to Woods, but about the golfer's mother Kultida.
In the documentary, Woods compares the personalities of his two parents. His father, he says, is "steely cold, icy, never gets emotional" and his mother is "more fiery, more of an extrovert."
The documentary then cuts to Earl Woods, then 72 and already showing the ravages of prostate cancer, talking about Kultida "Tida" Woods, his Thailand-born wife and Tiger's mother.
Earl's full quote in the film is: "Authoritarian. Yea, Tida is very authoritative. She is very definitive. 'Yes' and 'No.' I am more prone to be inquisitive, to promote discussion. I want to find out what you're thinking was, I want to find out what your feelings are and did you learn anything?"
Earl then adds, "So, we were two different types but we co-existed pretty well."
Early Woods Was Not Speaking to Woods in 2004 Documentary
The commercial is the first new piece of advertising to feature Woods since the golfer went underground last November, taking a leave of absence from golf in the wake of a spiraling sex scandal that cost him many of his biggest sponsors.
Larry D. Woodard, president and CEO of Graham Stanley Advertising and an ABC News.com columnist, worked with Woods when the golfer endorsed Buick at the time the documentary was produced.
Woodard said it was highly unlikely that Woods or his management team would have pitched the idea to Nike, and likely was originated by the ad agency.
"I'm basically a 100 percent sure it was the ad agency going to Tiger with the idea. An endorser doesn't go to the company," Woodard said.
"These things don't happen overnight," Woodard said from Augusta National, where the Masters kicked off today. "They are carefully orchestrated and planned way in advance."
Woodard said the 2004 documentary was part of a large scale effort by the golfer's agency IMG to create a story about Woods.
"I remember when that stuff was being recorded. IMG was building 'the Tiger Story.' They were creating a larger than life character," he said.
Click here to return to the "Good Morning America" Web site.