While this advice may not help much if your food is being handled by someone with the flu, it can be helpful in many of the social situations in which finger food would be served.
If you're shaking hands with many people at a reception, you may not have the time or opportunity to wash up before digging in to dinner.
Using utensils can keep any viruses on your hands from traveling to your mouth.
Quit Smoking
Smoking is known to be detrimental to your health for a number of reasons, but it can also make you more likely to catch the flu.
"If you've thought about quitting smoking, this is a really good time to do it," said Haller.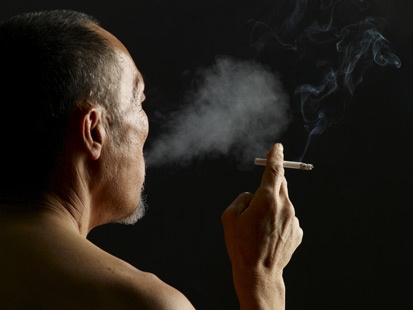 Cigarette smoke can affect the membranes of the nose, inflaming them. Ultimately, this makes the nose more susceptible to infection.
And this doesn't just affect the smoker, but the people around him or her as well.
"If you can't quit, at least go outside when you smoke," said Haller.
That way, the risk to others can be reduced.
-------
Cold & Flu season is here! Visit the ABCNews.com OnCall+ Cold & Flu Center to get all your questions answered about these nasty viruses.