6. Allergic to Your Phone?
Those with allergies to certain metals, such as nickel, may experience yet another side effect of exposure to their cell phones in the form of contact dermatitis.
In recent years, dermatologists have begun to see an increasing number of contact dermatitis patients who are allergic to these metal components in their cell phones.
"Some people are extremely nickel-sensitive," Dr. Lionel Bercovitch, a professor of dermatology at Brown Medical School, told Kirk Fernandes of ABC News OnCall.
Nickel is a metal that's used in a wide variety of products, including jewelry, belt buckles and watch bands. It's the most common cause of contact dermatitis in the developed world.
The symptoms of a nickel reaction range from mere redness to an obvious rash, or even blisters.
"My guess is that [the reactions are] probably more common than we think, but it's just not widely recognized," he said.
In a study published in the Canadian Medical Association Journal in January 2008, Bercovitch tested 22 models of cell phones for the presence of nickel. He found that 10 devices contained the metal -- often around the menu buttons, near decorative logos, around the edge of the screen or on a part of the handset where paint was chipped.
"As more cases get reported, more people will begin to think about it," Bercovitch said.
7. The Perils of Loud Music
Ok, so mobile phones are not the only devices that must share blame for exposing our ears to potentially loud noises. But as the convergence of technology brings more and more of our gadgets together, a growing number of people are using their mobile phones to store and play their favorite music.
The only problem? They may be playing this music far too loudly for their own good.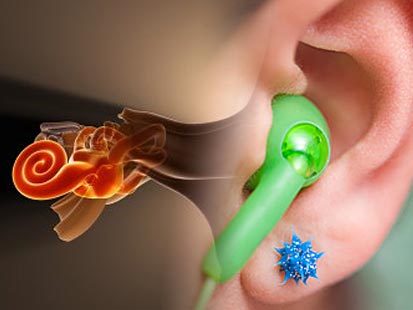 According to statistics from the U.S. Centers for Disease Control and Prevention, about 12.5 percent of those aged 6 to 19 years old and 17 percent of adults between 20 and 69 have suffered permanent damage to their hearing from excessive exposure to noise. In total, this accounts for more than 30 million people.
Sounds louder than 85 decibels can damage hearing. Normal conversation is about 60 decibels, and stereo headphones out of our MP3-enabled devices often reach 100 decibels.
Fortunately, this noise-related side effect is easily remedied. Simply turning down the volume can limit chronic exposure to loud noises -- quite possibly ensuring that our future conversations on our cell phones continue to come in loud and clear.
Reports from Lisa Stark, Kirk Fernandes, Kamal Menghrajani and Carla Williams contributed to this report.
-------
Have more questions on wellness topics like this one? Visit the ABCNews.com OnCall+ Wellness Center to get your answers.