ImPACT is a user-friendly, computer-based testing program, based in Pittsburgh, specifically designed for the management of sports-related concussions. Athletes take a test of their cognitive abilities at the start of the season, in order to determine a baseline. In the event of a concussion, doctors can better determine if there is a risk of further injury.
"You want their cognitive abilities to return before they go back and play," Bennett said. "That's really been a huge emphasis with soccer, lacrosse and football."
Concussions are getting attention elsewhere as well. In conjunction with Union Memorial Hospital in Baltimore, Lincoln of MedStar Research and other researchers are seeking to find out the causes of lacrosse injuries and reduce them.
"There's a lot of concern about whether or not the game is getting rougher, more aggressive, so we're focusing a lot of our research efforts on what's going on with concussions, what the mechanisms are," said Lincoln, noting that concussions were the most common injury for boys (but only fifth for girls).
The researchers videotaped 500 high school lacrosse games in Fairfax County, Va., this spring, and hope to present their preliminary results by the start of the next season.
One possible recommendation they might make is introducing a youth ball -- less dense than the one used at the collegiate and professional levels.
Lacrosse is not the only high school sport with injury concerns. In November 2008, ABC News' OnCall+ team took a look at injury-producing high school sports -- those pages follow.
Football
Unsurprisingly, football leads a number of safety studies as the most dangerous high school sport.
Frederick Mueller of the department of exercise and sport science at the University of North Carolina has compiled a long-term survey of catastrophic injuries in sports. His study put football as the most dangerous in terms of total catastrophic injuries, with 603 -- and 101 of them fatal -- since 1982. 1990 was the only year in the study without a fatality.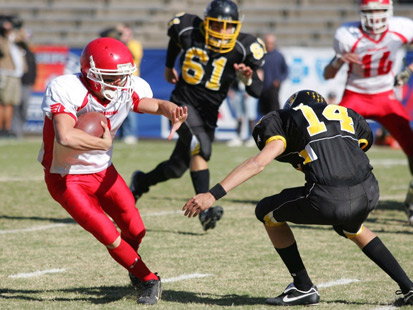 "When you just look at the numbers, football has the most catastrophic injuries," Mueller said last November. His data, however, look strictly at catastrophic injuries -- those resulting in very serious injury or long-term disability.
Comstock's data, which tallies every time an injury causes an athlete to miss at least a day of practice or competition, shows football as having a little over 12 injuries per 1,000 players.
But football is also the nation's most popular sport for high school students. From the 1982-83 school year through the 2005-06 school year, over 34 million boys and over 16,000 girls played the game. Over 1 million students play each year. While the numbers are higher than other sports, the rates are actually lower than sports like ice hockey and gymnastics.
Reduced rates of injury have come through rule changes and improvement of equipment, but Mueller thinks they can be lowered even more through better coaching.
"I think so many football injuries can be prevented if you teach the proper fundamentals of blocking and tackling," he said. "The big thing is, teaching the kids not to hit with their heads."
And the mindset of players also might need some changes to keep young players from getting injured.
"The mindset in football is that you play injured and you don't complain to the coach that you're hurting," Mueller said.