This can especially put a player at risk after suffering a concussion, where a second injury before recovering from the first can lead to long-term damage.
"I think it's important for coaches to realize that and to let their players know that they can come to them," Mueller said.
Baseball/Softball
While the sports are similar, the most common injuries in softball and baseball are quite different.
In baseball, "I would say the most common is with pitchers and arm injuries, whether that be shoulder, elbow, or just regular tendonitis," said Jared Voss, head coach of the baseball team at Joliet Catholic Academy, in Joliet, Ill.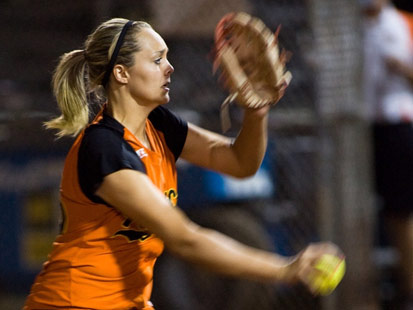 But while high school baseball pitchers have pitch counts and need to take days of rest in between starts, Kendall Ryndak, the 15-year-old sophomore starting pitcher at Downers Grove North High School in Downers Grove, Ill., pitches nearly all of her team's games.
"I know that I do pitch a lot and it can have a long-term negative effect on my arm," she said, but added "my arm is pretty healthy and I haven't had any injuries with my arm."
Ryndak said she had suffered a sprained ankle, but her arm has been fine despite playing softball year round since age 9.
Major differences for baseball and softball pitchers include underhand pitching in softball, versus overhand in baseball, and the distance from the mound to home plate -- 60 feet, 6 inches in baseball, but only 40 for softball.
As Ryndak's coach, Mark Margo noted, the more natural motion of underhand pitching has allowed her to pitch three games in a day, while when he was a baseball pitcher, he needed days off in between pitching outings. He said he monitors Ryndak much more closely when she is in the outfield and needs to throw overhand.
Also, he said, when it comes to throwing overhand, he has his fielders drill at shorter distances at the start of the season to build arm strength.
Margo feels the mound needs to be moved away from the plate, both to avoid dominant pitching, (no-hitters are a regular occurrence in softball, unlike baseball) but also to avoid a common softball injury -- balls hitting players, especially pitchers, before the players have time to react.
"I think that's the most dangerous injury that's going on right now," he said, noting that many pitchers and fielders now wear special masks to protect themselves. He said two years ago, his pitcher was hit seven times during the season.
Voss noted that much of keeping his pitchers injury free involves common sense.
"I personally, in high school, I try to promote guys doing other sports," he said, noting that it helps avoid burnout in players who play the same sport year-round.
Also, he said, parents and coaches need to be aware of an athlete's limits, and keep them from overusing their arms.
"Sometimes as coaches our ego gets the best of us," he said, adding that coaches need to take their star pitcher out of the game--no matter the circumstances--when they have pitched too much.
Cheerleading
Unlike the other activities on this list, cheerleading is not a sport.
Or at least, it's often not classified as a sport, and that may be part of the reason why its injury rate is so high.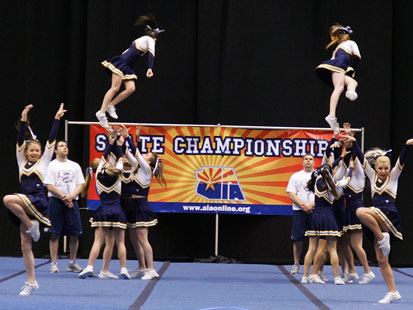 The NFHS does have a listing for "competitive spirit squads" on its participation numbers, but what a cheerleading squad consists of can vary greatly--and that can effect the likelihood of a participant being injured.