Others on the Boston Latin School girls' soccer team also sustained sprained ankles. Two members sustained even more serious injuries; one had a torn anterior cruciate ligament (ACL), while the other suffered a medial collateral ligament (MCL) tear.
Soccer injuries are not uncommon. According to The National High School Sports-Related Injury Surveillance Study for the 2007-2008 school year, a study released by National Federation of State High School Associations (NFHS), there were over 400 soccer injuries among all girls' soccer athletes, an injury rate of 2.35 per 1,000 athletes.
Common injuries seen among athletes who play soccer include those that affect the ankles and shins, according to Bob Rausch, athletic trainer for St. John's High School in Shrewsbury, Mass.
Rauch has also witnessed a soccer player getting a fractured collar bone during a game. The sophomore star got knocked down and landed on his shoulder.
To prevent such injuries from happening, athletic trainers like Rausch help prepare these high school athletes through exercises which include strength-training in the school's own weight room.
"The stronger [the athletes] are, the less prone to injury they are," said Rausch.
As for treatment, there are several tools that high schools have to diminish the pain that accompanies a sports injury. Among these are a supply of ice and a whirlpool for hot-cold treatment, which has been proven to be an effective technique for treating injuries as well as muscle stimulation and ultrasounds.
The results from such treatment are significant.
"Discoloration [from bruises] is decreased," said Rausch. "And decreased swelling [is observed]."
Ice Hockey
Played by both men and women, ice hockey may be the most dangerous high school sport.
Ice hockey is played by significantly fewer students than play football, with over 36,500 men and just over 8,600 women playing the sport in 2007-08, according to the NFHS, but they were likely to be injured at a higher rate.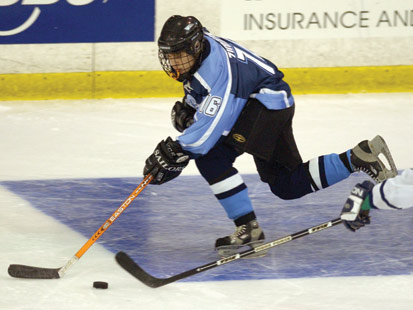 In fact, the UNC study showed women suffering a serious injury at a rate three times higher than the rate for men, and both were tops for severe injuries in any sport.
"Ice hockey and gymnastics had a higher rate than any of them," said Mueller.
While this may surprise some, Comstock, who has begun studying the sport this year, attributes hockey's higher injury rate to the rink.
"One of the differences in injury rates is the playing environment," she said.
While both sports involve high-speed collisions, she said, surfaces can make all the difference.
"In football, they're landing on a relatively soft surface compared to ice hockey," she said.
Also, Comstock noted, the walls surrounding the rink are perhaps the greatest source of injury. "In ice hockey, so much of the contact ends with an athlete striking the boards and the glass," she said.
Track and Field/Cross Country
Track and field injuries mostly occur in the field.
Mueller notes that the most common injuries are in the pole vault and discus--typically when someone is not paying attention and is hit by a throw.
"They shouldn't ever happen," he said.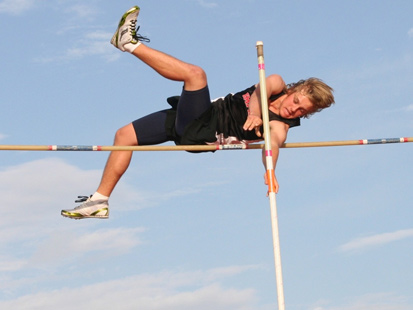 As for the pole vault, the injury rate has been lessened by promoting protective headgear that can be worn at the high school and college level.
"Some of the track injuries have been prevented when they first started looking at pole vaulting injuries," said Mueller.