Indeed, in a 2003 study involving 18,000 men, finasteride was shown to cut the risk of prostate cancer by around 8 percent.
"If a man is getting screened because he's worried about prostate cancer, taking the drug is a very rational thing to do along with screening," Dr. Otis Brawley, chief medical officer of the American Cancer Society, told ABC News.
But at the estimated cost of $90 a month, the drug is expensive. And in the earlier trials there was some evidence that the drug might cause high-grade cancers. While proponents have denied such findings, other doctors have voiced their concern over this potential use of the drug.
"There are way too many side effects, and I believe that if they get cancer on finasteride, it's going to be biologically more aggressive," said Dr. Aaron Katz, director of the Center for Holistic Urology at Columbia University. "This is not the way to prevent cancer of the prostate."
"I still do not feel that this is ready for prime time," agreed Robert Getzenberg, director of urology research at the Brady Urology Institute at Johns Hopkins Hospital. "There are too many important questions that are unanswered."
Viagra
In a pinch, doctors may look to the erectile dysfunction drug Viagra as a means to increase blood flow to tissues in the body that need it. Such was the case when 20-year-old college sophomore Jamie Schanbaum suffered meningitis and, shortly thereafter, an infection that threatened her fingers and legs.
Dr. Peter Lin, Schanbaum's doctor, who treated her at St. Joseph's hospital outside of Houston, said his team used the drug to see if it would be possible to spare Schanbaum the extensive amputations some physicians suggested as the only way to control the gangrene in her arms and legs.
"Viagra stimulates blood flow," Lin told ABCNews.com. "We wanted as much blood flow to get to the damaged area as possible."
While Viagra's usefulness in this regard has yet to be confirmed, an Australian study this year looked at the possibility that the drug might help increase blood flow to the uterus in pregnant women, which could in turn help developing fetuses receive more oxygen. Other studies have also taken a look at whether the drug could one day be used to increase blood flow to the brains of patients with multiple sclerosis, as well as whether it could help travelers deal with jet lag.
Botox
It's a drug whose name has become synonymous with cosmetic treatment. But many forget that Botox -- the most commonly known brand name for botulinum toxin type A -- had its humble start in the treatment of crossed eyes and spastic conditions as early as the 1970s.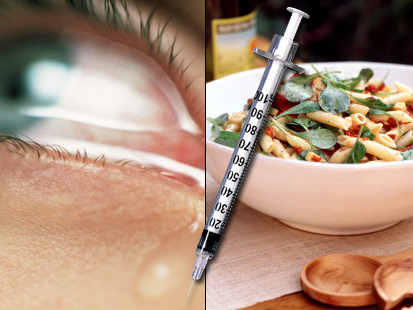 However, the reputation of the drug changed forever in 2002 when the U.S. Food and Drug Administration approved it for the treatment of facial frown lines. Injecting the solution into the faces of their patients, doctors could selectively paralyze certain muscles implicated in the formation of wrinkles.
Now, doctors are further stretching the drug's usefulness by treating patients who experience certain type of hyperlacrimation -- in other words, the overproduction of tears in response to certain stimuli.
For 58-year-old Patricia Webster of Maidstone, England, who had been living with the degenerative nerve condition known as Guillain-Barre syndrome, the occasional shot straight into her tear ducts means freedom from an embarrassing symptom of her condition in which she would appear to cry whenever she ate.