With the school year well under way, and Thanksgiving on the horizon, many fall athletes are winding down their seasons while winter athletes prepare to gear up for theirs.
But as student athletes take the field, some parents worry about potential injuries to their children.
Fear not. While students are at play, researchers are gathering data in the hopes of preventing the injuries that can shorten a young athlete's season.
And while injuries do occur, the risks of playing sports may be far outweighed by the risks of not playing them.
"We never want any of our injury research to scare any parent into pulling their kid out of sports," said epidemiologist Dawn Comstock, a principal investigator at the Center for Injury Research and Policy at Nationwide Children's Hospital in Columbus, Ohio.
"The long-term negative health risks associated with an inactive lifestyle are much more serious than the potential of sports-related injury."
She also noted that the vast majority of sports-related injuries are minor.
"We actually want to see more kids play sports and be physically active more often. We just want to keep them as safe as possible while they're out there."
Visit the OnCall+ Pain Management & Arthritis Center
When Your Pain Has No Name

Killer Jobs: 10 Painful Professions

What Your Figure Means for Your Pain
For those who want to learn more about the injury rates and risks, as well as some ways researchers, coaches and the athletes themselves are trying to prevent them, we present 11 injury-prone high school sports.
Football
Unsurprisingly, football leads a number of safety studies as the most dangerous sport.
Frederick O. Mueller of the department of exercise and sport science at the University of North Carolina does a long-term survey of catastrophic injuries in sports.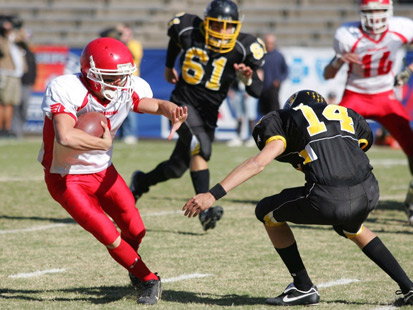 His study puts football as the most dangerous in terms of total catastrophic injuries, with 603 -- and 101 of them fatal -- since 1982. 1990 was the only year in the study without a fatality.
"When you just look at the numbers, football has the most catastrophic injuries," Mueller said. His data, however, look strictly at catastrophic injuries -- those resulting in very serious injury or long-term disability.
Comstock's data, which tallies every time an injury causes an athlete to miss at least a day of practice or competition, shows football as having a little over 12 injuries per 1,000 players.
But football is also the nation's most popular sport for high school students. From the 1982-83 school year through the 2005-06 school year, over 34 million boys and over 16,000 girls played the game. Over 1 million students play each year. While the numbers are higher than other sports, the rates are actually lower than sports like ice hockey and gymnastics.
Reduced rates of injury have come through rule changes and improvement of equipment, but Mueller thinks they can be lowered even more through better coaching.
"I think so many football injuries can be prevented if you teach the proper fundamentals of blocking and tackling," he said. "The big thing is, teaching the kids not to hit with their heads."
And the mindset of players also might need some changes to keep young players from getting injured.
"The mindset in football is that you play injured and you don't complain to the coach that you're hurting," Mueller said.