To prevent injuries from appearing on their team, Dwayne Harmon, all-star director of the Energized All-Star cheerleading team, said that he uses proper progression to teach the girls and boys on his squad. According to Harmon, proper progression involves "teaching the basic fundamentals" before having the cheerleaders try out complicated tricks and stunts.
Also, the skill level of a cheerleader has bearing on the type of injuries they get.
"The higher level of skill [of a cheerleader], the more risk that comes in," said Dannie Halloran, cheerleader for Energized Athletics ad cheerleading coach for Cambridge Ringe and Latin High School in Cambridge, Mass.
For that reason, Mueller believes that better regulation could make the sport safer. "If you look at cheerleading, [the injuries] probably can be reduced," he said.
Despite the high injury rate in cheerleading, Kim England believes the benefits heavily outweigh the risks.
"I got Samantha to cheer for academic reasons, since you need certain grades to continue cheering," England noted. "It's great for fitness [and] keeps her out of trouble. [Also], just to see the bonding and how excited [the cheerleaders] are is amazing."
Halloran agrees with England on the benefits of cheerleading.
"It's an amazing sport to get into," added Halloran. "Not only are you learning great discipline on a mat, putting a routine, but it's a great sport of socialization where you meet great people with the same ambition and get to work on the same goals."
Gymnastics
The injuries that plagued the U.S. Mens' and Womens' Gymnastics teams during the 2008 Olympic Games in Beijing were a clear indication that the sport of gymnastics poses serious strains on the human body.
At the high school level, the risk is no different. In fact, those only involved in gymnastics at their high schools, as opposed to also being part of a club, put themselves at greater risk for injury.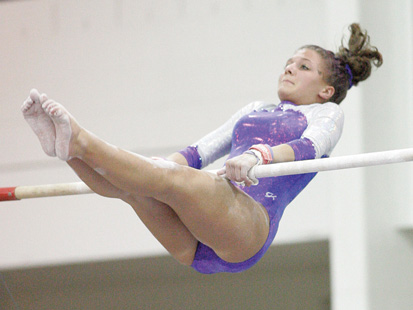 According to Mary Bakke, a national gymnastics judge for USA Gymnastics and the national technical chair for United States Association of Independent Gymnastics Clubs, Inc., those involved in all-around clubs are better conditioned than high school gymnasts, who only compete in the sport for a season.
In comparison to club gymnasts, "high school gymnasts are out of shape," said Bakke.
"[Having] a trained coach is important," she added. "[Sometimes] high school coaches don't know the sport," a fact that can put the athletes in harm's way.
Injuries that are unique to gymnastics are knee and ankle injuries, as well as the occasional arm, hand, neck or back injury.
"Floor exercising and vaulting are prone to injury," Bakke pointed out. "If the body is not in good alignment, the body is piked," which can lead to severe injury.
Gymnasts are trained to minimize their own risk of injury through good conditioning of their bodies which includes maintaining good flexibility, muscle control and staying in good shape. Also, it is important for gymnasts to learn how to absorb the shock from their landings through techniques which include bending the knees upon landing rather than keep their legs straight.
Bakke emphasizes that "things have to be broken down [by coaches] to lead up to certain skills" as well as having workouts tailored to a particular gymnast. The consequence of doing a trick cold turkey can include a permanent injury accompanied by chronic pain.