However, while some patients in the study felt that they had benefited from the drug, today it remains on the government's list of Schedule I drugs -- a classification that includes heroin, cocaine and methamphetamines. Still, some hope that the restrictions on the drug's use may one day be lifted to help soldiers returning from war deal with psychological trauma.
Thalidomide
Few drugs have as controversial a reputation as thalidomide. First marketed in 1957 to stave off morning sickness in pregnant women, the drug was soon found to be linked with severe birth defects ranging from cleft palates to missing and abnormal limbs, spinal cord deformities and organ abnormalities.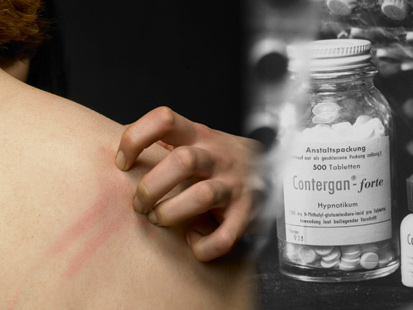 Despite these tragic and high-profile outcomes, a small group of patients did benefit from using the drug -- those with a severe and debilitating leprosy-associated complication known as erythema nodosum leprosum (ENL).
Considering the small number of people today who live with leprosy, it may come as little surprise that the silver lining of this devastating drug remains relatively secret. And the World Health Organization still recommends against the use of the drug to treat the ravages of ENL due to birth defects.
Nonetheless, in 1998 the FDA cleared the drug's use for leprosy under strict supervision. Women who are candidates for receiving the drug are required to undergo pregnancy testing both before and during their treatment with the drug. Men using the drug are required to use a condom whenever they have sex with a woman, and all patients are limited to a 28-day supply and must see a doctor before getting more of the drug.
Reports from Emily Friedman, Radha Chitale and Bob Woodruff contributed to this report.
-------
Want to hear tips on nutrition, fitness, stress relief and sleep? Visit the ABCNews.com OnCall+ Wellness Center for hundreds of expert suggestions.