Specifically, researchers at Carnegie Mellon University studied the brain waves of drivers using cell phones -- and they found that even just listening to a conversation reduced the amount of brain activity devoted to driving by 37 percent. The quality of driving showed a "significant deterioration," according to the 2008 study.
"The science tells [us] when [we're] on the phone while driving, it is a high-risk activity -- very, very risky," Janet Froetscher, president and CEO of the National Safety Council, told ABC News correspondent Lisa Stark in a "World News" report in January. "But most people don't understand that."
Still, 80 percent of drivers admit to having had a cell phone conversation while driving, according to a May 2008 Nationwide Insurance poll -- even though more than 40 percent of those surveyed said they'd been hit or almost hit by another driver who was talking on a cell phone.
Even hands-free phones appear to contribute to unsafe driving. A 2005 study by the Insurance Institute for Highway Safety found that drivers using cell phones -- even hands-free -- were four times as likely to have an accident involving an injury, according to Ann McCartt, senior vice president for research at the insurance institute.
"I think there is still a big misconception among drivers and policymakers, intuitively, that a hands-free phone would be safer," she said. "And there may be a margin of safety there, but it is still unsafe."
3. Talking While Walking: Another Traffic Hazard?
Those behind the wheel may not be the only ones at risk of a cell phone-related auto accident. So suggests a study published in January in the journal Pediatrics that shows that children are more distracted while crossing the street if they happen to be talking on a cell phone.
Using a virtual reality setting, researchers studied 77 children ages 10 and 11 to see what effect cell phone conversations had on their ability to make it across the street safety.
What they found was that when children were on the cell phones, their attention to traffic -- the number of times a participant looked right or left -- went down 20 percent. The risk of getting hit by a car, or the number of close calls, went up 43 percent.
"The influence of cell phones on child pedestrian safety is particularly concerning because cell phones, an oddity a decade ago, are quickly becoming ubiquitous among American schoolchildren," said the study's authors.
Some preliminary studies show that even adult pedestrians get distracted while carrying on cell phone conversations while walking. Still, adults are much more likely to avoid injury, as they are generally more adept at navigating the crosswalk than children are.
4. 'Phantom' Vibrations
While they may pale in comparison to the seriousness of a car accident, the "phantom" vibrations experienced by some habitual mobile device users can be an annoying side effect of the wireless era.
Indeed, many cell phone and BlackBerry users report feeling vibrations when their phones are, in fact, silent.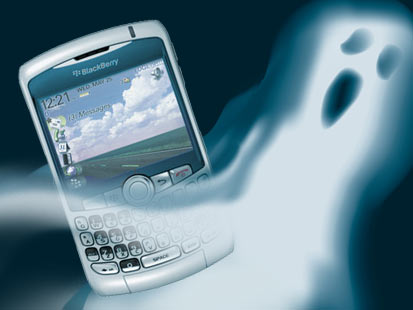 "If you use your cell phone a lot, it becomes part of you," Dr. William Barr, the chief of neuropsychology at the New York University School of Medicine, told ABCNews.com. "It's like wearing a tight sock all day. When you take it off, you still feel it there on your foot. If your cell phone is not there, you still feel like it is."