Think running a marathon is hard? Try 142 of them. In a row. Across the country.
That's exactly what Steve Knowlton did, starting out in Seattle and running straight through to Key Largo, Fla., averaging 37 miles each day -- 3,717 miles total -- through wind, rain, mountainous terrain and painful shin splints.
"There were some days I had to roll out of bed and crawl to the bathtub to loosen up my legs," Knowlton, 45, said from Florida, where he's vacationing with his family through Friday.
"It's all about your attitude and how you're going to deal with it," he said. "I had my good and bad days, but I just prayed God gave me the strength to get through each day."
It worked. The journey took the Prior Lake, Minn., resident through the treacherous Yakima Canyon, past what's billed as the world's largest ball of twine in Kansas, and into the Deep South, where he was routinely offered food and money by passersby thinking he was homeless.
He did it all in the name of research.
Knowlton was a high school athlete in his senior year when, at 17, he became seriously ill. He began dropping weight, plummeting from about 180 pounds to 132 pounds on his 6'3" frame. The doctors, he said, dismissed his symptoms as nerves about attending college in the fall.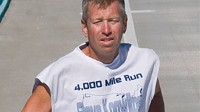 Andy Newman/Florida Keys New Bureau
Eventually, he was hospitalized. That was when Knowlton was diagnosed with Crohn's disease, a chronic inflammatory bowel disease.
"I had always been a very healthy and athletic kid and suddenly I had a permanent disease there was no cure for," he said.
A veteran of 43 marathons , Knowlton said that if he could raise both money and awareness for a cure, the arduous journey would be worth it.
"Just because you have Crohn's disease doesn't mean your life is over," he said. "My body held in there. I kept on a pretty good strict diet."
Knowlton said he picked his southeasterly route after seeing that most everyone else who had run across the country ran from California to the East Coast.
"I hadn't seen anybody who had ever diagonally crossed the United States," he said. "I thought that would be incredible because you'd see about every type of land and climate and culture during the route." "It was amazing all the different people I met."
After getting off to an ominous start -- reading in a newspaper that a camper had been attacked by a bear along his route and getting lost several times in the first few days -- Knowlton said he hit his stride.
Initially running with a large backpack that he thought made him look like "Santa Claus," Knowlton stopped at a Target on Day 6 to pick up a $100 baby jogging stroller to cart his gear.
And there were other mid-run adjustments. After finding that sticking to bike and jogging trails ate up too much time, and put him farther and farther off course, Knowlton's father made calls to several states before he entered to find out if he could run on the interstate shoulder.
They got a "yes" from Oregon, Idaho and Wyoming. He stuck to smaller roads the rest of the time. He tried to aim for 40 miles each day. Behind by two days by the time he reached the half-way point -- the aforementioned ball of twine -- he picked up his pace and, with the help of his father, re-routed himself.
Cross-Country Runner Got Repeatedly Mistaken for Homeless Man
Along the way he completed four days of 50 miles or more. And he often had visitors on the road in the form of police officers wondering why a man was running down the road with a stroller.