Scott Cunningham has been vigilant about his health since both his parents were diagnosed with breast cancer in the 1990s.
When Cunningham, who is 45 and from Marion, N.C., developed the same symptoms as his father -- "knots" on the chest underneath the nipple -- he put off getting help for months because he had been laid off from his job at a furniture plant and was uninsured.
"My chest is swollen, just like it started with my dad," said Cunningham, who also said he feels tired and "different" than he did just a few months ago.
But as symptoms got worse, he finally called the local health clinic and was turned away -- not for financial reasons, but because he was a man.
The clinic, the Rutherford-Polk-McDowell Health District's National Breast and Cervical Cancer Early Detection Program, is funded by the Centers for Disease Control and Prevention, which only serves women, aged 40 to 60.
The early detection program provides low-income, uninsured and underserved women access to timely breast and cervical cancer screening and diagnostic services.
"I am not the type to ask for anything," he said. "I had to work up the guts to call them. Their reply was, 'We do it for women, not for men.'"
"I didn't know what to do at first," said Cunningham. "I was stunned and confused. Breast cancer used to be just a woman's cancer, but now it's well known men are susceptible."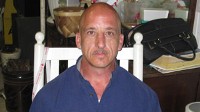 Courtesy Cunningham family
Helen White, clinical nursing supervisor at the Rutherford-Polk-McDowell Health Department, confirmed that federal breast screening funds are limited to women, but she said everything will be done to help Cunningham find a referral for medical care.
"As with any other situation it would be based on whether he has insurance, Medicaid or is low-income [eligibility]," said White. We would refer him to a couple of options, a free clinic in the county, or Health Plus, which is a sliding scale at the hospital -- whether he was male or female."
White was able to reach Cunngingham today and offer assistance.
While breast cancer among men is 100 times less common than among women, it can be deadly.
The American Cancer Society reported nearly 2,000 cases of male breast cancer in the United States in 2009. About 440 of those men will die from the disease.
Compare that to 240,000 women who will develop the disease and the 40,000 who will die this year.
Though it is most common in older men, it can occur at any age. And, as with women, early diagnosis gives patients a better shot at a cure.
Kiss Drummer, 'Shaft' Actor Both Had Breast Cancer
Like Cunningham, men often delay seeing their doctors, and for that reason many male breast cancers are only discovered when the disease is more advanced.
According to the Mayo Clinic, symptoms include a painless lump or thickening in the breast tissue, changes in the skin or in the nipple, such as dimpling or redness, and discharge.
High-profile men who have had the disease include the late U.S. Sen. Edward Brooke of Massachusetts; Richard Rountree, star of the 1971 movie, "Shaft;" and Peter Criss, the drummer for the 1970s band Kiss.
Criss, now 64 and cancer-free, underwent a lumpectomy in 2008 when he found a lump on his left nipple.
"It can happen to you, and when it does, if you don't deal with it right away, with your 'dude' and your metal and your tattoos, you'll go in the box and we'll see you," he told Reuters earlier this year.